If I could make my own product line, I would probably want this light. Making my own DIY lighting is something I've been doing since I started my blog in 2007, and I'm just amazed at the ways to use simple, humble materials to create creative and interesting lighting. Here are 8 DIY lighting projects I've done over the years, from the most recent and working back to the beginning when I started my blog.
DIY Flush Mount Glass Bubble Light
I shared this light in more detail yesterday. You can click here to see more if you miss that. I made this light out of frosted Christmas decorations, a ceiling medallion, and a hanging flower basket. This light is on top of the bathtub in our (unfinished) master bathroom remodel.
Square DIY Semi-Flush Light
This light was inspired by a very expensive light that I have found and absolutely loved, but there is no way I can pay more than $ 2000 for a light. As much as I love lighting and think it's one of the main things that makes a room feel finished and designed, I'm always convinced that I can get the look I want at a more reasonable price. So using expensive lighting as my inspiration, I made it from trim from the molding aisle at Home Depot, along with some paint, gold leaf, and a piece of glass that I cut at the local glass store. . You can find details of this project here.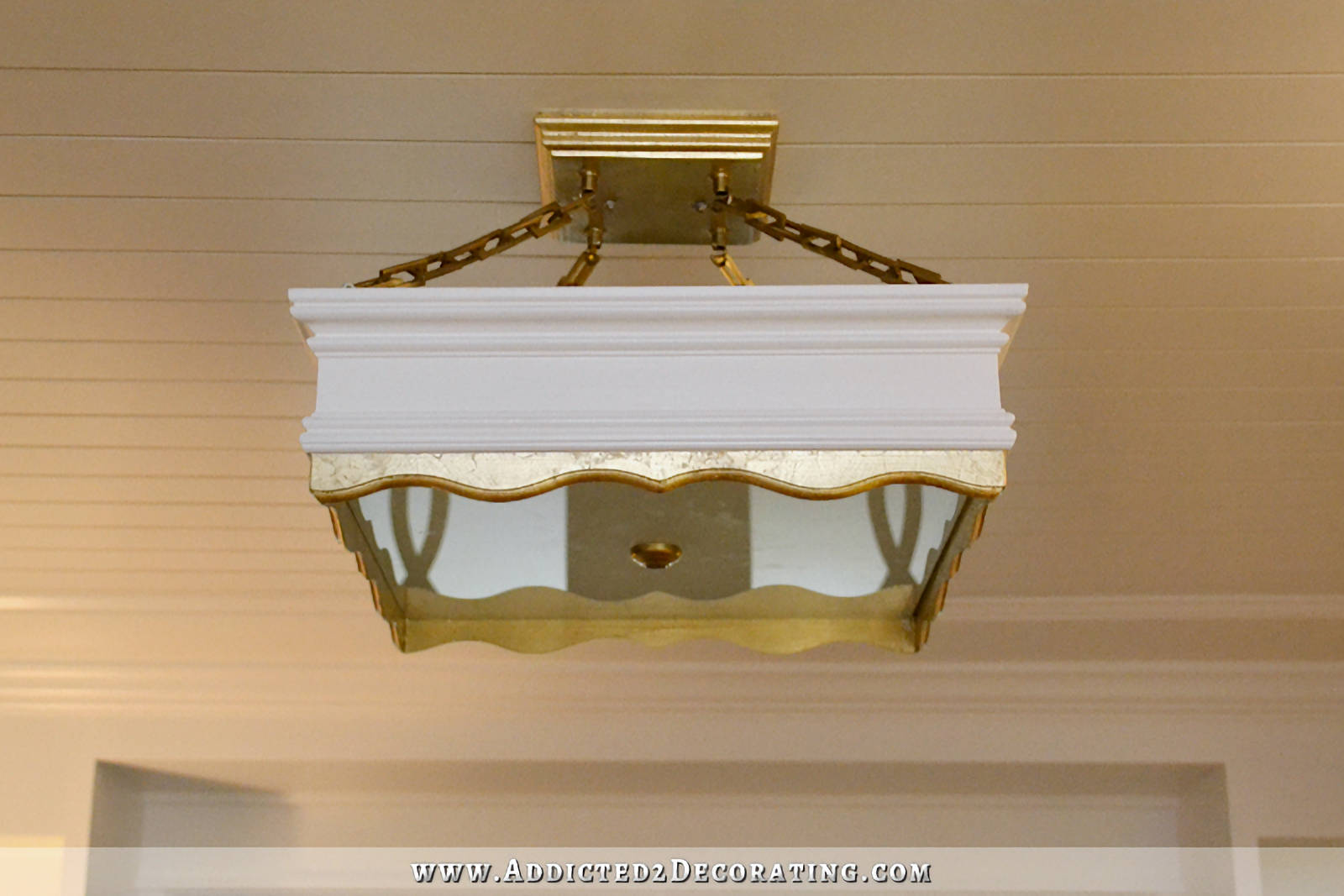 DIY Watercolor Herringbone Table Lamps
It was a fun project, and as far back as I can remember, these were the only table lamps I had ever made. I usually stick to DIYing pendant lights. This is a very tiring project, because the herringbone "tiles" are actually pieces of hand -cut watercolor paper. But if you've been around here for a long time, you know I really like projects that are tiring. (* Ahem* – pinwheel art made from 800 tablespoons tasting wood, pixel art made from 6400 small pieces of wood, etc.) I made these table lamps when we first moved into our house, and obviously I was going in a completely different direction with a color palette than what I had made in our house. I love seeing this same design done in my beloved bright colors – teals, pink, green, etc. You can see the details of these DIY table lamps here.
DIY Faux Capiz Shell Pendant Light
I don't know if it really looks like a faux capiz shell (in my opinion), but I still like this pendant light. I really believe that as long as you use hundreds (or maybe thousands) of something and make it shape (sphere, cylinder, etc), it will look great. I made this pendant light using a large glass sphere and the plastic used to cover the windows to give them a frosted glass look. I cut hundreds of "petals" out of that plastic, used a gold marker on the edge of each petal, and then glued it to the glass sphere. I never saw it in a finished room, because the room they entered was already our master bathroom. You can find the details of this pendant light here.
DIY Orb Pendant Light
It's one of my favorite projects I've done for our condo. This orb hallway light is made from two flower hanging baskets and a piece of lighting from an old chandelier I found in the thrift store. You can find the details for this org light here.
DIY Pendant Light Made From Drinking Straw
And now we're digging back into the Addicted 2 Decorating archive. It's one of the first DIY projects I've done for my blog, and it's a light bulb made from colorful drinking straws. Even if I like the color, it's even more to my taste right now. But I love seeing this same design made smaller, and with all white/translucent straw. I thought that was nice. Or I like to see it all in one bold color. Seeing me the pendant light hanging above Shauna Glenn's kitchen sink with her recent Instagram photos/reels, I was immediately brought back to this straw pendant light. Something like that can easily be done with all orange straw. You can find more about this pendant light here.
DIY Flower Pendant Light
I wish I could go back and use these lights in the actual room. I never saw them in a room because I only made them for fun. It was more of an exercise to flex my creative muscles. But this pendant light is made of paper pulp on egg cartons (coincidentally I have found purple!) And Christmas lights. You can see the details of this DIY pendant light here. And please forgive the horrible picture. It was way back in 2007 or 2008, and I had no idea how to take photos back then. ⁇
DIY World Globe Pendant Light
If there are so many old globes in the world around, it's a fun project to do with them, and it's easy. It was nice in the kid's room above the table. You can find the details of this pendant light here. And again, please forgive the horrible photos. I'm still a newbie to blogging. ⁇
Addicted 2 Decorating is where I share my DIY and decorating journey as I remodel and decorate the 1948 fixer upper that my husband, Matt, and I bought in 2013. Matt has MS and can't do physical work , so I do most of the work at home on my own. You can learn more about me here.
I hope you join me on my DIY and decorating journey! If you'd like to follow my projects and progress, you can subscribe below and send each new post to your email inbox. That way you won't miss a thing!