Back in June of 2021, I gave this side table in our breakfast room (now used as a chair) a makeover by stripping the heavy factory finish from the table to reveal the natural wood.
I intend to give the whole thing a protective coat of my favorite clear coat, Overall Finishes High Performance Topcoat in a flat finish. But almost two years later, I still haven't gotten around to giving this table a protective coat. So naturally, unprotected raw wood shows signs of use and wear.
I'm really glad I never put a clear coat on this table because in the two years since I stripped the table, I've learned about two of my new products for on the tree — Rubio Monocoat Oil Plus 2C in the color Purewhich is what I used for all the walnut wood in our master bathroom, and Watco Danish Oil in black walnut, which is what I use on my Walnut WaterRower at home gym. Rubio Monocoat is a clear finish, and Danish Oil in dark walnut darkens the wood. I decided to try the Danish Oil on the table.
I'm not 100% sure what wood it is, although when I stripped the table in 2021, many people seemed convinced that the table was made of cherry. So I didn't expect the color to be as deep and beautiful as it is on my Walnut WaterRower. But I was surprised by the color. Here is a look at the front of the table before the Danish oil was applied…
And here is the upper section of the drawer and a leg with Danish oil.
The whole process took about 30 minutes. I put the Danish oil on a paper towel, let it sit for a few minutes, and then wipe off the excess with another paper towel. It doesn't get any easier than that! The oil gives the wood a nice medium brown finish. (Bonus points if you can spot my cat in the picture below. 😀 )
I'm very happy with how it turned out. And now Matt will be happy that the table top has a little protection on it, so we don't destroy the table completely. The color actually matches the wooden blinds in the room.
The top of the table has a piece of wood that is lighter than others in its natural color. It is not so noticeable when the whole thing is a light color, but now that everything is darker, that a light strip on the edge of the table shows more. But I'm not bothered by it. That's just the nature of the real wood finish. Not all pieces are finished the same way.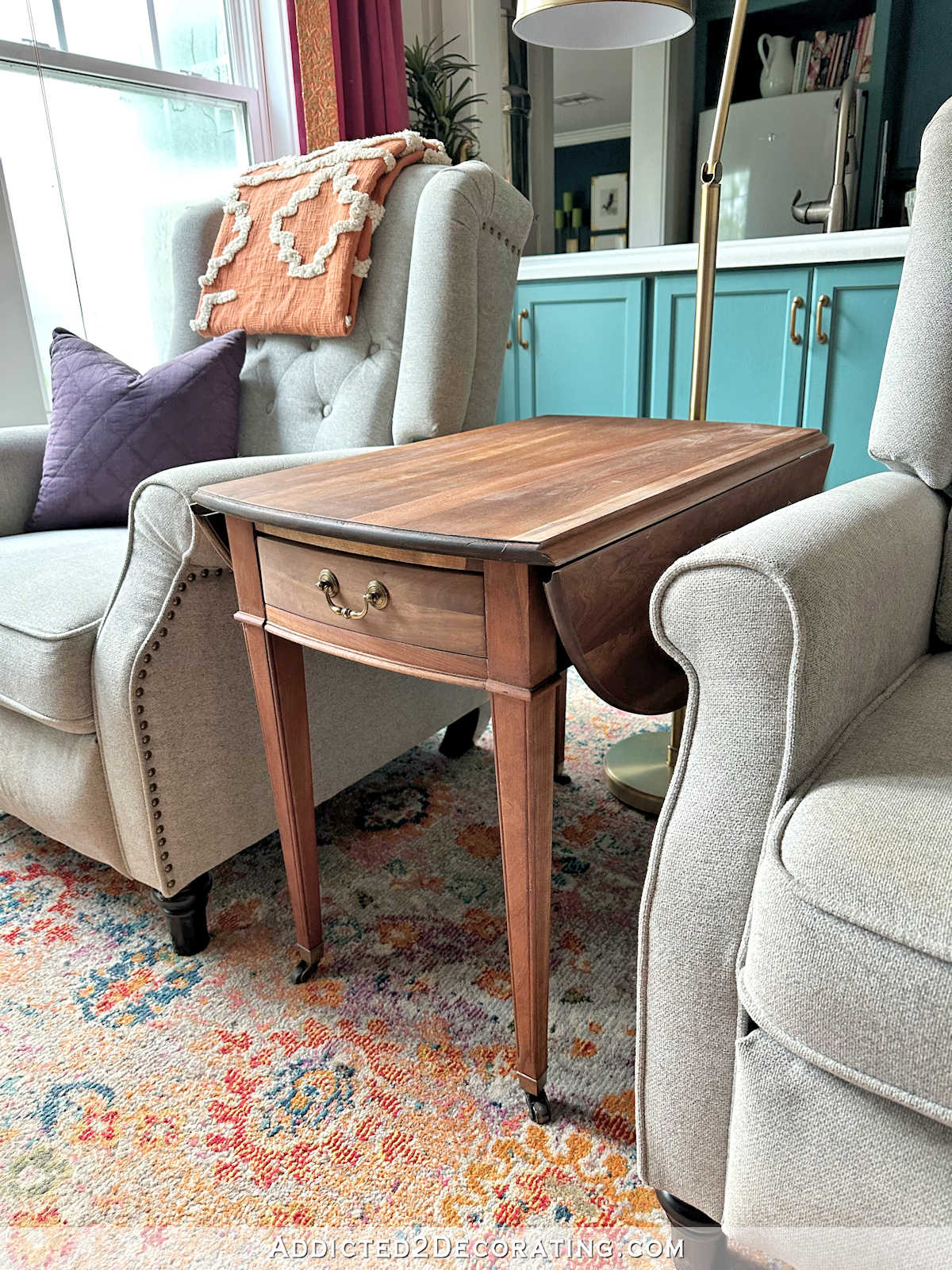 I've become a big fan of Danish oil and Rubio Monocoat for natural oiled finishes. There is such a natural beauty to an oiled finish as opposed to a polyurethane finish, and I find myself looking for more opportunities to use oiled finishes. I'm not sure how any of those work on something like a dining room table that gets used so often. If we can turn this room into a breakfast room, and I can have a dining table in here again, I might be tempted to find a table that I can finish myself so I can try the one of these products. this.
People often ask me what finish I recommend for dining room tables, and right now, General Finishes High Performance Topcoat (which is a water-based polyurethane) is my favorite, hands down. But it's good to look for an alternative finish, and an oiled finish can be a good choice. Hopefully Future Kristi will have a chance to find out! 😀