Now that Matt and I use it our new master bathroom, that means the main use of the hallway bathroom can now be a guest bathroom. And since I don't go there every day, using that as my main bathroom to get ready every day, that means I can finally make some changes that I've been thinking about for a long time.
When I did the original renovation of this bathroom in 2015, I painted the vanity teal. unfit. Teal is my favorite color.
Then there was a very short stint where the vanity was gray (bleh), and then in 2021, I did a more extensive bathroom makeover, and that's when I painted the vanity this coral-orange color.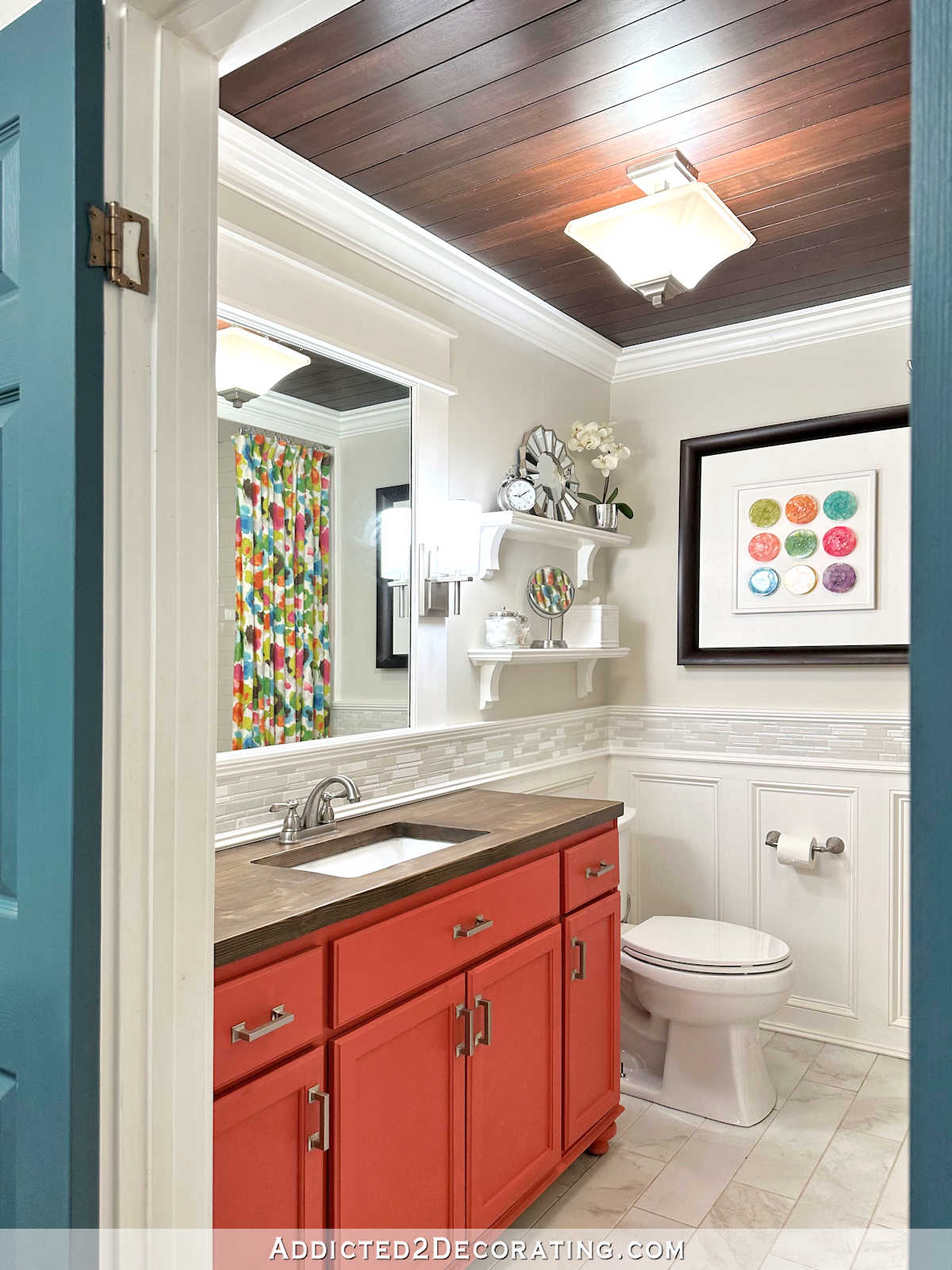 Even though I've been at it for over nine years (we bought the house in August 2013), I find that I'm still trying to "discover" my style. My taste is always changing, though it's usually in subtle ways. And I continue to refine my style.
I mean, how many tries does it take for me to get my sin? Five? And it wasn't until I stopped trying to strictly use cool colors (mostly teals and greens) and embraced my love of warm colors (especially anything in the pink category), that in I finally got it right.
With this bathroom, I decided to use that fabric for the shower curtain. I bought it for another project that didn't come to fruition, and I didn't want to waste money, so I used it here. I like it, but as time goes by, I'm a bit tired of the colors, which appear more "primary" than I love.
And then I chose the color of the dress to wear in the vanity. And while I love any version of coral out there, I've learned that for my own home, I prefer my corals to lean more towards the pink side than the orange side.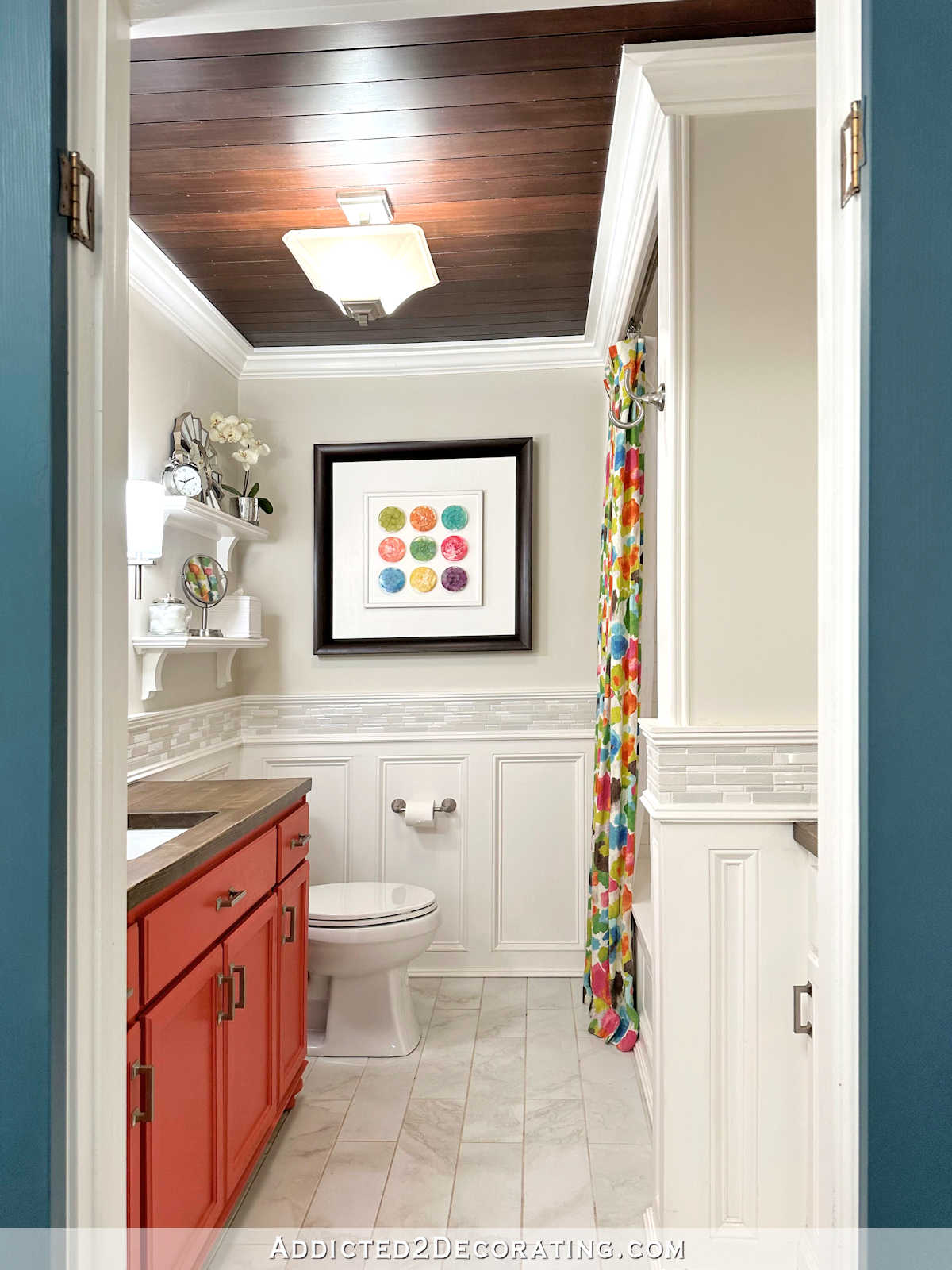 So the orange on the vanity and the light on the shower curtain fabric are in my "I want to change that" radar for a while.
And then there are all the metal fixtures in the room — ceiling lights, sconces, drawer and door pulls, faucets, and more. not really a silver type of person. I prefer the warmth of gold and copper, especially with darker, aged finishes. (I really don't like bright, shiny, bright gold and copper finishes.) So I'd like to trade that in as well.
I don't know when I will face these changes. After all, my top priorities right now are (1) finishing the home gym, and (2) starting my studio ASAP. But the projects in this bathroom are not too big, so I can add it to my "do it when I need to take a break on big projects" list of things I want to do.
What I don't want is to end up with a boring, neutral bathroom. That will never happen. 🙂 I still love colors, and this bathroom can be colorful. But I'd rather just pick the colors I've chosen than pull a fabric from my stash to use as a jumping off point because I don't want to waste money and I feel obligated to use it it's everywhere, This time I'm going to start with something that I've chosen specifically for this room.
Or maybe I'll decide to put the color and pattern on the walls it surrounds! Wallpaper, anyone? 😀 That could be a fun change.
Anyway, I was looking for fabric last night, but I just couldn't find anything that caught my eye. Actually, what I wanted to use was the fabric I used on the pillows that were on the purple chairs in the living room.
That fabric is one of my absolute favorites ever. But I'm not sure how I feel about repurposing a fabric that's already been used in another room, and I'm not ready to give up these pillows for the living room because they're perfect for that room. That fabric is called Paint Palette in the color Punch by P. Kaufmann.
So looking for fabric (or wallpaper! 😀 ) is where I start, and I'm not in a hurry to find it. But I'll keep my eyes closed as I scroll through Instagram and flip through magazines, because even if I don't catch all the changes in the next few months, I want to spend some hours and get. that vanity was repainted soon.
Addicted 2 Decorating is where I share my DIY and decorating journey as I remodel and decorate the 1948 fixer upper that my husband, Matt, and I purchased in 2013. Matt has MS and is physically unable to work, so I did most of the work at home by myself. You can learn more about me here.
I hope you'll join me on my DIY and decorating journey! If you want to follow my projects and progress, you can subscribe below and get every new post sent to your email inbox. That way you won't miss a thing!