We had really beautiful weather this weekend, so I decided to take advantage of it to do more work on the porch. My main goal today is to stain and seal the porch boards before my cabinets arrive in the studio on Wednesday. When the cabinets arrived, my front porch was the last thing on my mind.
I had the entire front porch area washed a few weeks ago and the front porch planks are looking much better.
So I plan to just do a little sanding to remove the roughness left by the pressure washing, and then proceed with sealing the boards. But when I started sanding, the color of the boards started to change a lot.
I realized that I really couldn't do a quick sanding job. It took me longer than I expected, and did a more thorough sanding job than I first thought the porch would require. I was amazed at how much color the sanding took out.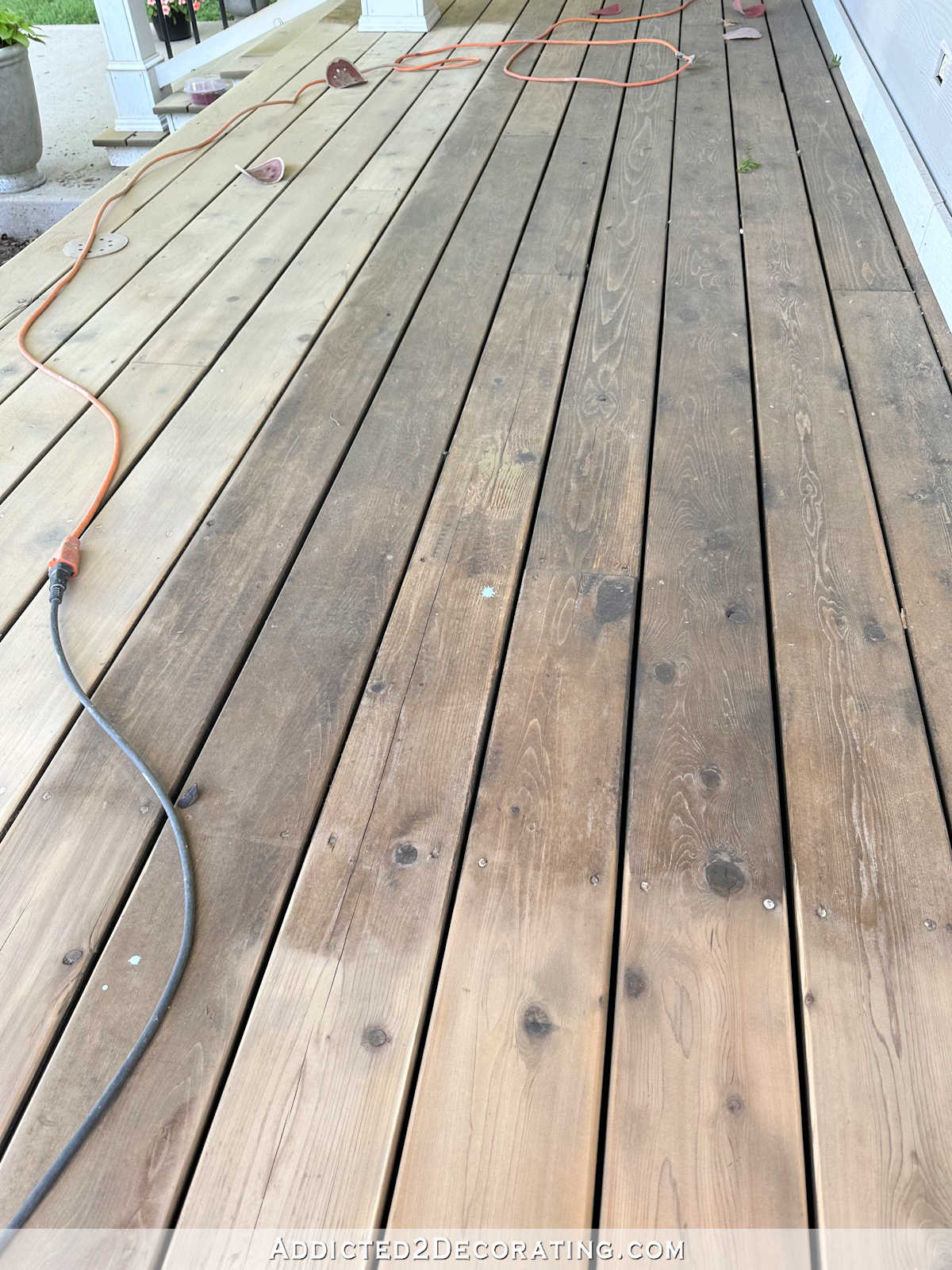 After everything is sanded, the boards look like new. tight-fitting. This is what it looked like when the entire porch was swept and swept.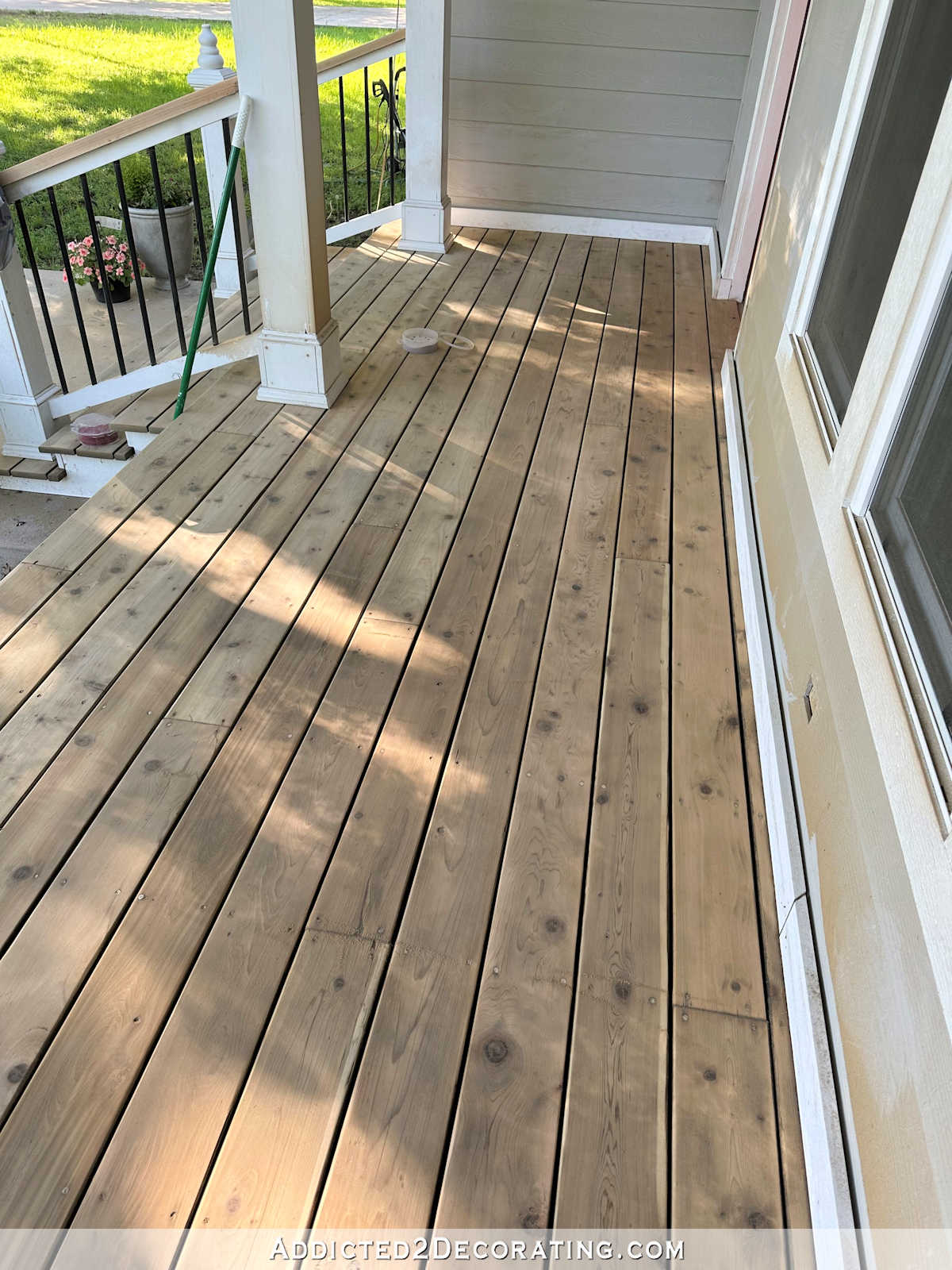 It took me longer than the quick sanding I planned to do, so I didn't get the stain/sealer off the porch yet. But after researching the possible deck stains and sealers available, and reading a ridiculous amount of customer reviews, I finally decided to use Cabot Australian Timber Oil. I also used wood oil for the first time, but it was a different brand. So I stuck with what I knew because I was happy with tree oil the first time.
But the whole time I was working on it, on my knees and sanding each and every board with my 5-inch sander, I thought that my biggest mistake on this porch was using real wood for of actual porch planks and not spending extra money for Trex or similar.
And why didn't I use Trex the first time? The cost. I don't want to pay that much money for a front porch. I wanted to do the porch makeover on a budget, so I used cedar. Cedar is not the cheapest wood I have available. I chose cedar because it's a wood that doesn't change over time, so I'm okay paying a little more for it.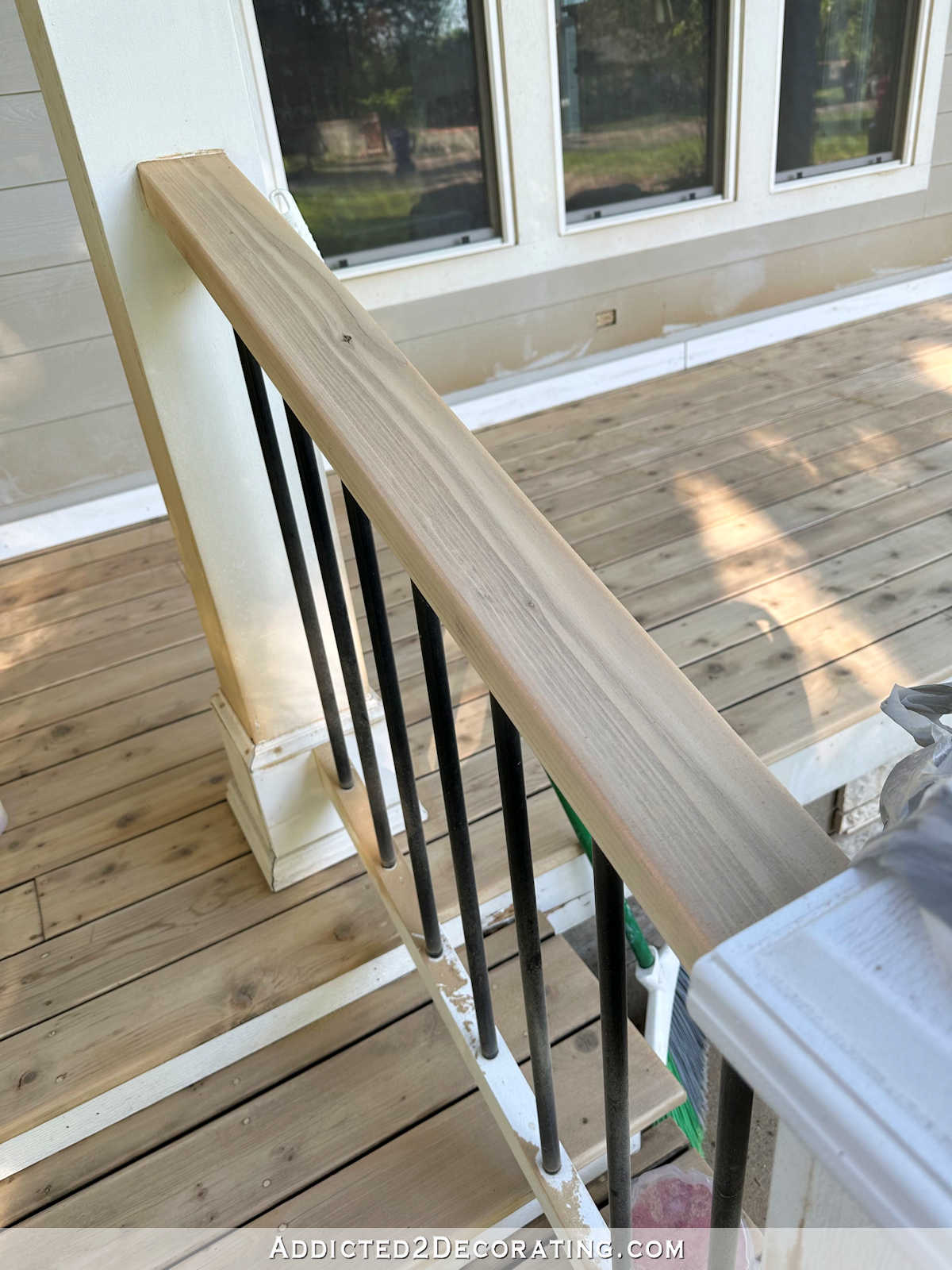 But in retrospect, I realize that when it comes to outdoor projects like porches, decking, etc., trying to save money up front means you're stuck with a lifetime of maintenance as long as you have that balcony or deck. That means you'll pay that money back, but spread it out over many years. And in addition to money, you also have to spend hours and hours of your time doing the necessary maintenance, or you have to pay more money to have someone do the maintenance.
I realized that it's not worth trying to save money up front, especially for outdoor projects that have to withstand the abuse of weather and sun all year long. It is better to spend more money up front, and then to enjoy the front porch without having to worry about ongoing maintenance.
So that helped me decide how I'd handle things like the wood in the columns separating the joints, and this area of ​​the skirt that's literally a sponge.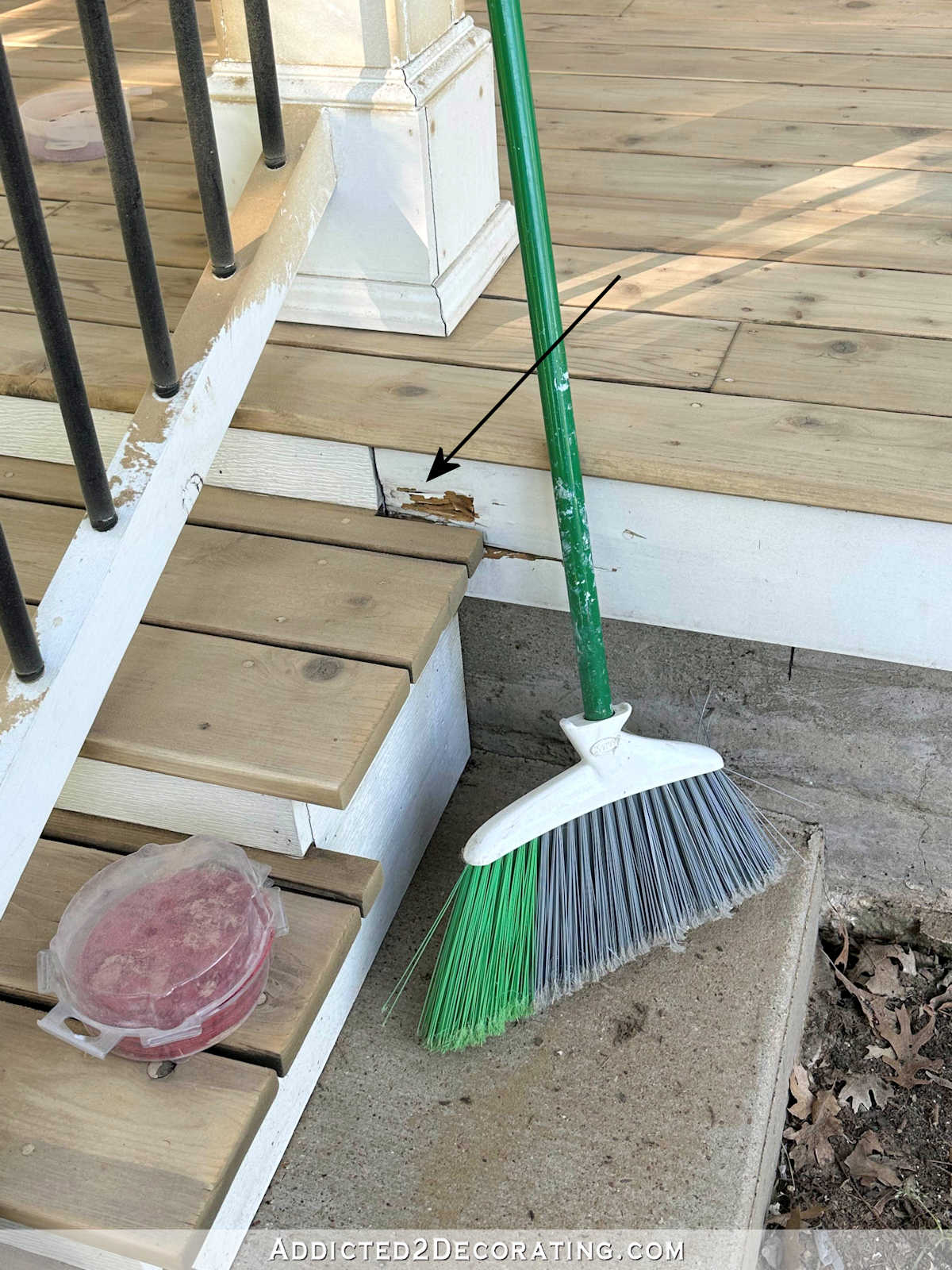 So far, I have not replaced anything. I'll use wood hardener on the spongy wood, and wood filler and caulk on the non-spongy areas that need attention, and I'll paint them. And of course, I will re-seal the porch boards now that they are all sanded and ready for stain and sealer.
But this is the last time I will do it. Once our addition is built, which will include a deck in the back of the house, I will do that with Trex. And at that time (or whenever this porch needs to be redone), I'll do it with Trex, too. And from now on, any other outdoor projects will be done with longevity in mind, and not with the goal of spending as little money as possible over time.
If you have a Trex porch or deck, I'd love to know what you think of it! The company claims that it requires literally zero maintenance. Is that your experience? Or if you have a different brand of no-maintenance composite deck boards, I'd love to hear about that.