Looking for a unique and stylish way to recycle those old jeans? Look no further than this amazing denim cuff wristband idea! This easy-to-follow DIY tutorial will show you how to upcycle your denim into a trendy and attractive piece of jewelry.
Denim Cuff Wristband
The denim cuff wristband is the perfect accessory for any outfit, whether you're dressed up or dressed down. It's also a great conversation starter – people will be complimenting you left and right on your stylish style!
Upcycling at its best! This is the perfect way to show your love for recycling and upcycling. This is a great way to use up old denim that would otherwise be thrown away. Plus, it's a fun and easy project that anyone can do.
You will love how this bracelet turned out. It is a great accessory for any outfit, and it is a great gift for friends and family. In addition, you can customize it however you want – so it's always unique and special. And if you like this idea, I know you will love our unique old blue jeans necklace! Combine the two for a perfect look!
How Do I Keep This Wristband On My Wrist?
This blue denim wristband can be closed with a button, snap, or ribbon tie. It's up to you what you choose and how much effort you want to put into making your bracelet unique.
For the button closure, you can use an existing button or sew a button on one end. Then you can sew a ribbon to loop the button, or do what we did and cut a slit in the denim to put the button through.
A snap closure may require a little work depending on your own sewing experience and/or what you have available. There are cheap snap fasteners that make this easy, or you can sew the snap pieces to the bracelet at opposite ends.
For the ribbon tie, simply loop a piece of ribbon around both ends of the cuff and tie it in a knot. This can be done with a simple slot cut in the denim or can be done with an existing button or waist closure with a ribbon added to the opposite end.
Can I Wash It With My Washing Machine?
You can wash this denim cuff wristband in your washing machine but you'll want to make sure it's on the gentle cycle, especially if you add beads to it. Another idea is to use the dishwasher to wash it. This is great if you need to clean things that require high pressure hot water but you don't want to get too hot.
I recommend putting them in a bag that is safe when cleaning in the washing machine, or in the dishwasher's handy caddy.
What Can I Use To Decorate This Wristband?
There are many ways to decorate the wristband. You can add all things to it. I chose to add seed beads to a braid because I love the look and it's something I already have. You may prefer to use something a little different. Below are some good ideas to consider.
Sew or sew on beads, sequins, rhinestones, or charms. Its braiding lengths are excellent, but simply sewing or gluing a pattern would be perfect.
Dye the denim a different color. I love the idea of ​​bleaching it or doing a tie-dyed look on it to give it more personality.
Use fabric paint to write a message on the bracelet instead of adding beads. It can also be used to draw things like flowers or grapes.
Iron or sew a patch with a specific theme that is part of your hobbies, a seasonal item, or just unique.
Add lace ribbon and faux pearls for a bit of an upscale look that dresses up the denim a little more.
Supplies needed
How to Make a Denim Wristband
Start by cutting the waist of a pair of old blue jeans. This gives you the base of the cuff and already includes a button or snap closure. If not available, it can be done with other pieces of denim, but the waist has a thicker and stiffer texture that works best.
Now, measure this strip around your wrist cut about 1″ longer than needed to wrap around your arm. When measuring and cutting, place the button end on the waist attached to your measurement.
Wrap it back around your wrist, and mark the end opposite the button where the button connects. Here you cut a slit in the denim for the button to go through. If you want to make it more secure or prevent it from unraveling, you can sew around the outer edge of the slit to give it an extra layer of protection.
Set the cuff aside and start preparing the beads to braid. Using a needle and thread, begin stringing the beads onto the thread until it is roughly the length of the bracelet. It needs to be shorter to attach, but braiding shortens the length.
Repeat this process with three colors of beads, or at least three strands of seed beads.
Now, tie the three strands together at one end. Then, sew that end to the end of the bracelet just above the slit you made for the button.
Now, start braiding the strands of beads until you reach the button at the other end. If necessary, remove or add some beads at this point to complete the bread.
Tie the end to hold the braid in place. Then, wrap the loose end of the thread around the button 2 to 3 times. Tie or sew it in place to attach it to the bracelet.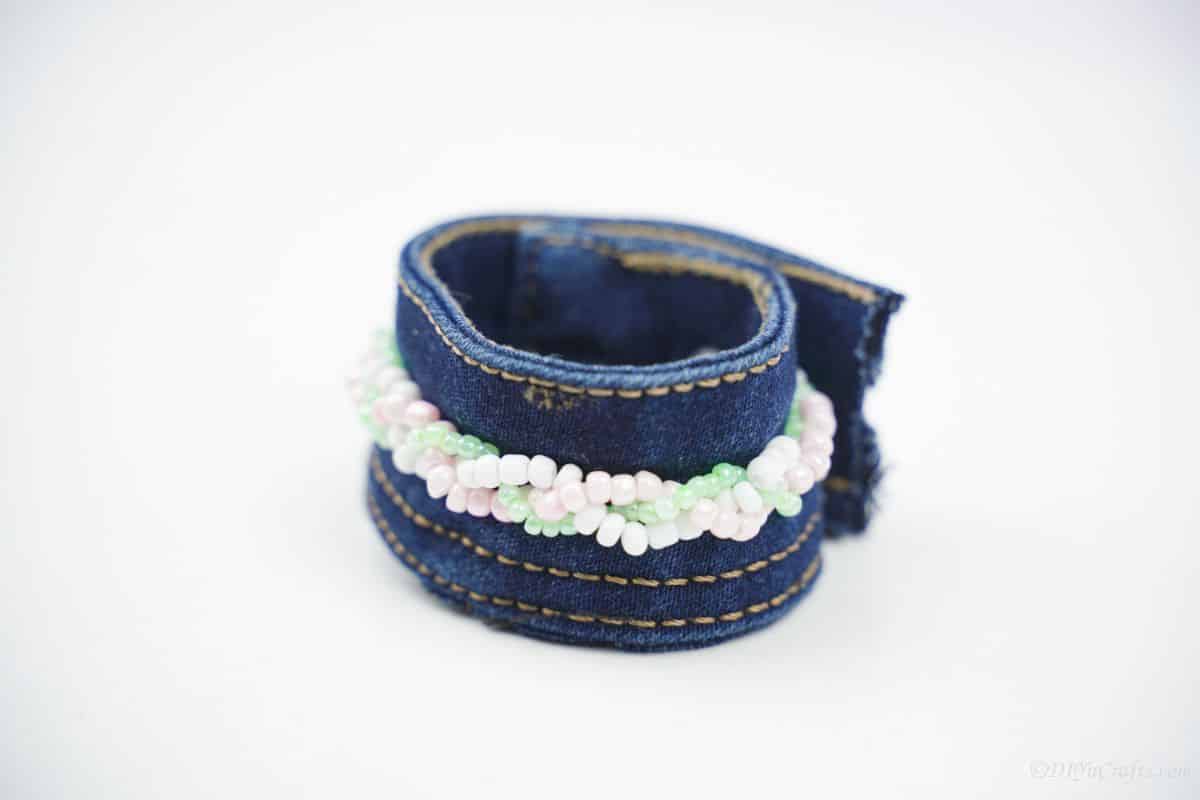 I also like to add a few stitches around the laces along the cuff to keep them secure and less dangling. Add any extra charms or adjustments needed then check for easy closure and wear!
Easier Denim Crafts
Old blue jeans are always fun to work with crafting. They are very durable and definitely flexible for many different creation ideas. Below are a few more ideas you might consider using for your next craft day. Make sure you bookmark the ideas, print out their tutorials, or pin them to a crafting board on Pinterest.
Yield: 1
This beautiful DIY upcycled denim cuff wristband is the perfect accessory for casual or dressy outfits! A unique style you will love!
Active Time
30 minutes
General Time
30 minutes
Depression
easy
Estimated Cost
$1
Instructions
Cut the waist of a pair of blue jeans.
Measure around your wrist from the button side of the waistband, then leave at least 1 inch of overlap, then cut to length.
Now, at the end of the denim piece, opposite the end with the button, use scissors or a craft knife to cut a slit that the button will slip through, but not too big for it.
Now, use a needle and thread to tie the seed beads into a piece about 2″ shorter than the length of the bracelet.
Repeat this for 3 colors or 3 strands.
Now, tie the ends together and then sew them one at a time to the end of the bracelet, just above where the slit is your bracelet button, leaving the other end of the strand hanging.
Now, carefully braid the three strands of beads until you reach the button at the other end.
Twist the thread around the button and tie it in place, then add a stitch if necessary to hold it there.
Now you can test it, and make changes if needed or add a bigger button for closing.
Notes
Add lace ribbon to the edges for a different look.
Recommended Products
As an Amazon Associate and member of other affiliate programs, I earn from qualifying purchases.
Finished Project Gallery
Add different colored beads or sequins for a unique look! Make one for every season or clothing style!