If all goes as planned, the home gym will be completed this week. I only have a few small items left on my punch list for that room. That means next week, my attention will finally be in the studio, and I can't wait to get that room done!
One thing that bothered me about the studio was the wallpaper. I love the wallpaper, and yet, something has been bothering me about it for a long time. I thought about replacing it with a completely different wallpaper, but many of you encouraged me to go ahead. But I had to decide what to do about something that was bothering me about it.
Here's what I don't like about it. Up close, I think it looks great. But from a distance, the dark purple flowers turned into blotches of dark purple, and they seemed to dominate the rest of the wallpaper.
This is the wallpaper I designed myself, and unfortunately, I lost all my original photos when my hard drive crashed, including the full size picture with each other's flowers -another layer to make it easy to move and edit each flower individually. But last week, I realized that I can go into my Spoonflower account and download the file (the large wallpaper image) that I uploaded to print the wallpaper.
So I did that, and then my mom helped me by using Photoshop and separated the two flowers that I really didn't like (the dark red and the dark purple) and put them on different layers in the file. in the image so I can. change the individual flowers separately.
I've been working on it for a few weekends, but I still don't have it the way I want it to. Here's what the original wallpaper looks like…
This is what the lighter purple and red flowers look like…
I actually like that purple better, but when I tiled the image to see how it would look as wallpaper, now it looks like the two purple flowers are too close in color, and now the purple dominates the wallpaper.
And I don't want it to be pastel. But I think it's an improvement. So I'm going to do a little more tweaking, order a sample, and then wallpaper the whole wall.
Here is another comparison. This is a closer look at the wall with the current wallpaper with the dark purple flowers…
And here is a mockup of lighter purple and red flowers.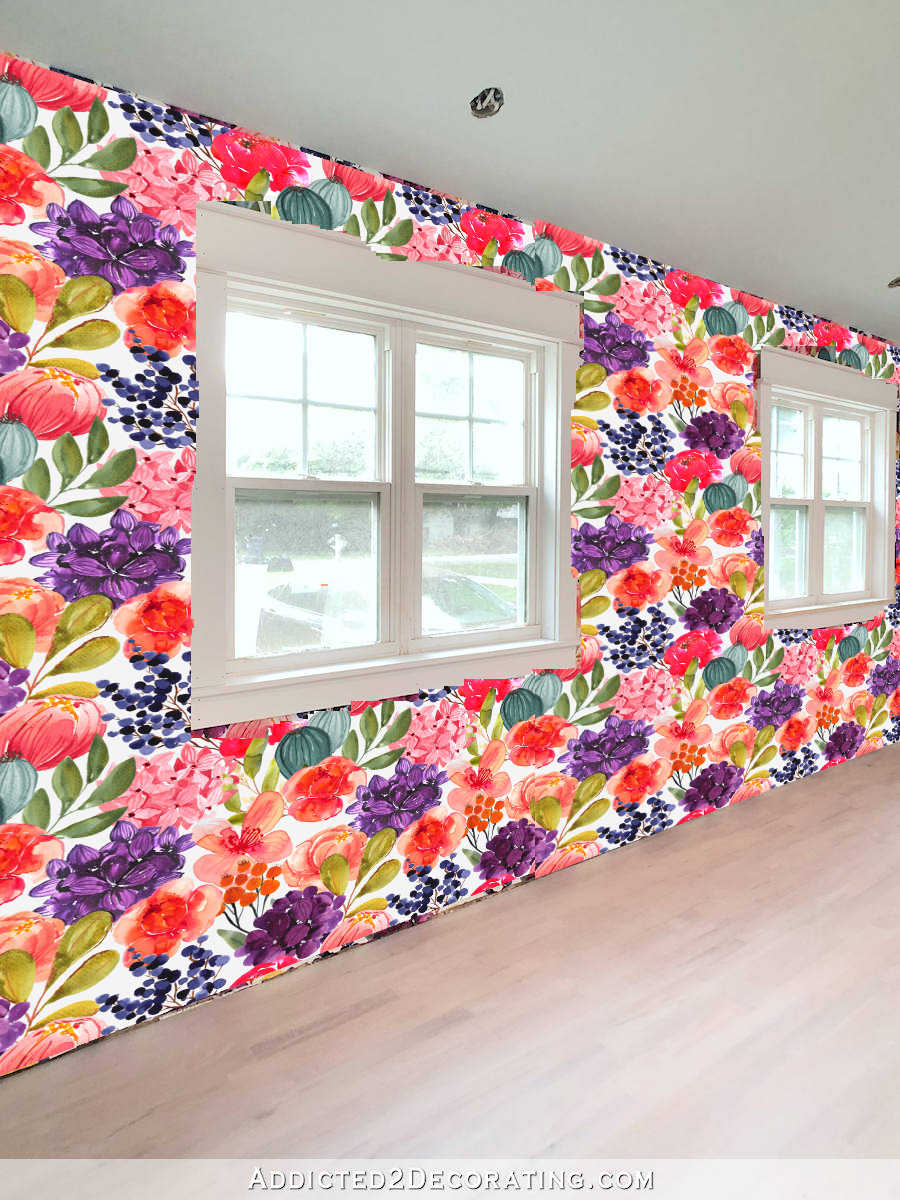 Does it remind you of anything? I did the wallpaper mural in our master bathroom twice to get it right, and here I did the wallpaper in the studio twice to get it right, too.
Addicted 2 Decorating is where I share my DIY and decorating journey as I remodel and decorate the 1948 fixer upper that my husband, Matt, and I bought in 2013. Matt has MS and is physically disabled. , so I do most of the work at home by myself. You can learn more about me here.
I hope you'll join me on my DIY and decorating journey! If you want to follow my projects and progress, you can subscribe below and get every new post sent to your email inbox. That way you won't miss a thing!