I spent a few hours yesterday cleaning out the gym at home so I can start working on this room again and finally finish it. For the past few months, this room has been used as a storage room, workshop, etc., while I've been working on the master bathroom remodel, and when I'm done with the bathroom, the unfinished home gym as this…
In fact, it looks a lot worse than that. I didn't remember to take that picture until I got some things out of the room. But you get the idea. That was bad.
I was determined to clean most of it before I went to bed last night because I didn't want to spend too much time today cleaning. I want to be able to walk in there now and start working on a project.
So after many hours of work (with many breaks because the work was too big and overwhelming for me), this is what it looked like last night when I finally quit around 9:30.
I am very proud of my progress! 😀 And I'm very proud of the fact that I didn't take all the tools and equipment from this room and just throw them in another room. I really took the time to put everything in its place. I can actually find my stuff now!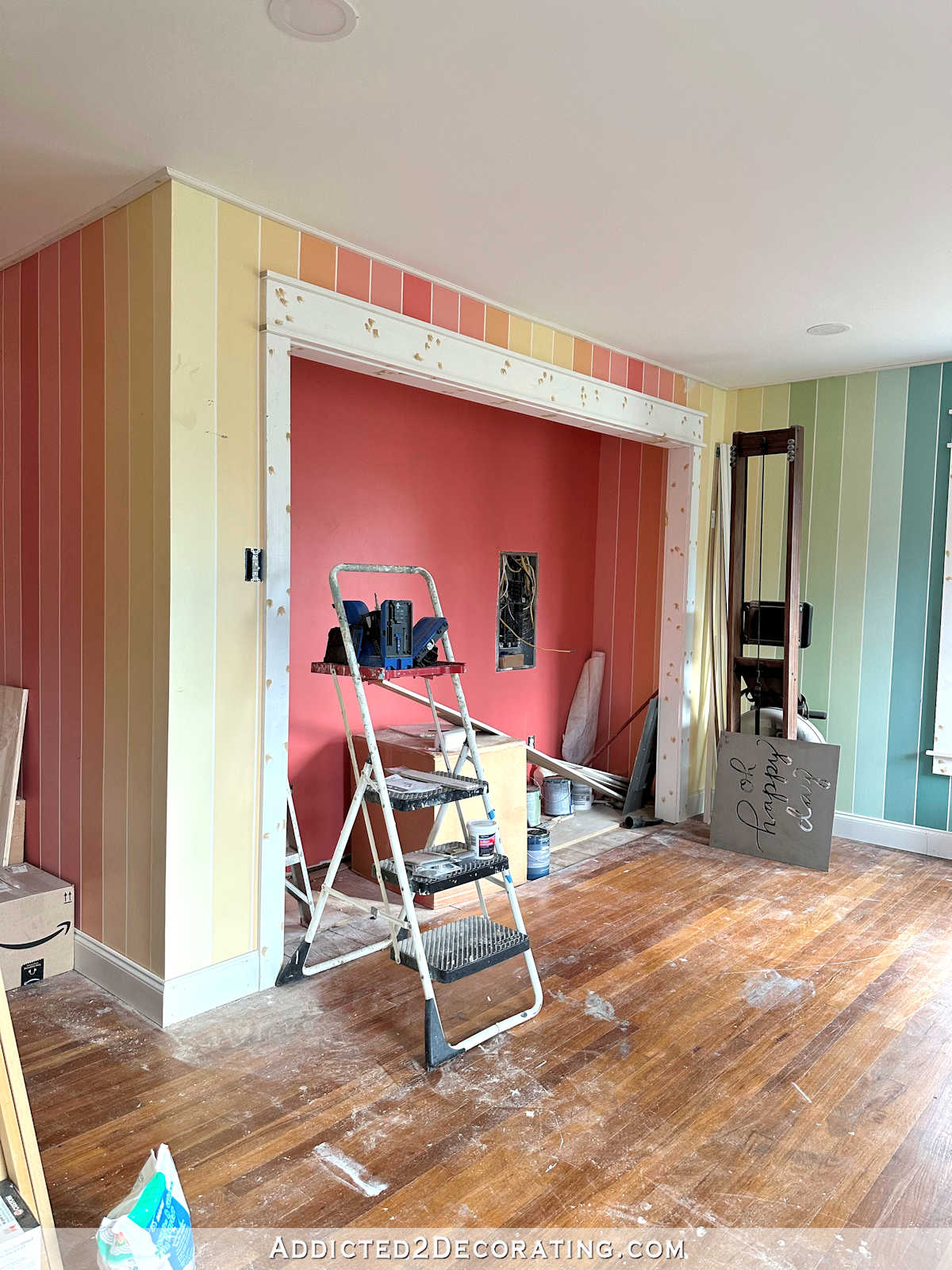 The biggest projects I have yet to do in this room are (1) finishing all the trim, and (2) finishing installing the hardwood floor in the closet area.
As far as trimming goes, the hardest part of the project is done. All trims are placed on all doors, windows, and a cased opening around the closet area. And as far as I can tell, all the nail holes were filled with wood filler, and in at least one window, the wood filler was sanded. So the rest must be sanded, and then all of it must be caulked, primed and painted.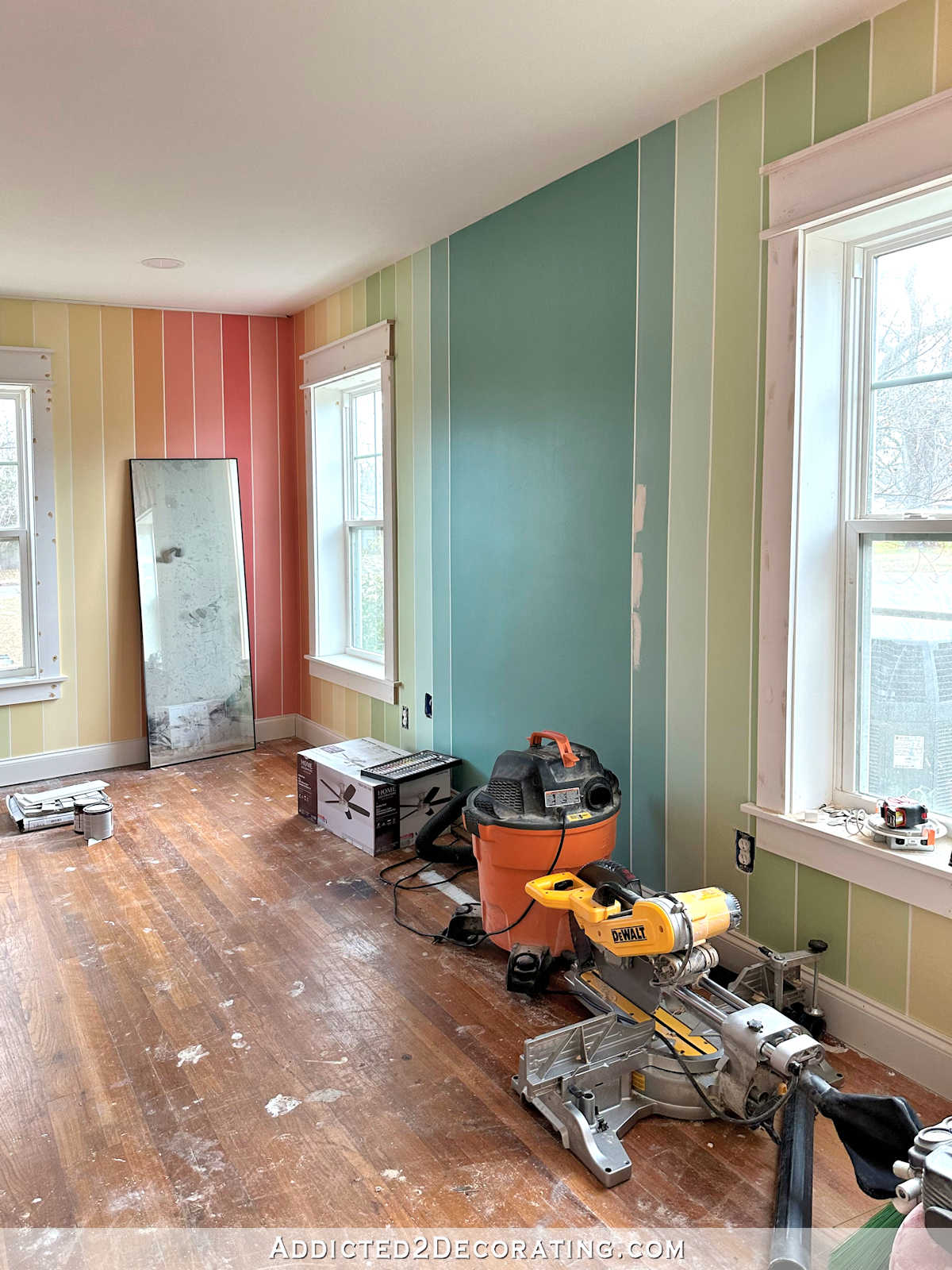 And then the closet area still needs to have hardwood flooring installed. The reason it doesn't have hardwood flooring is because this area used to be two separate closets. One of the closets (basically the right half of the closet area you see below) is for this room with a door on the right side of this wall. The other half (the left half of the closet room you can see below) is the closet for the room on the other side of the pink wall, which is the guest bedroom (ie, the room we currently use as our -first room) .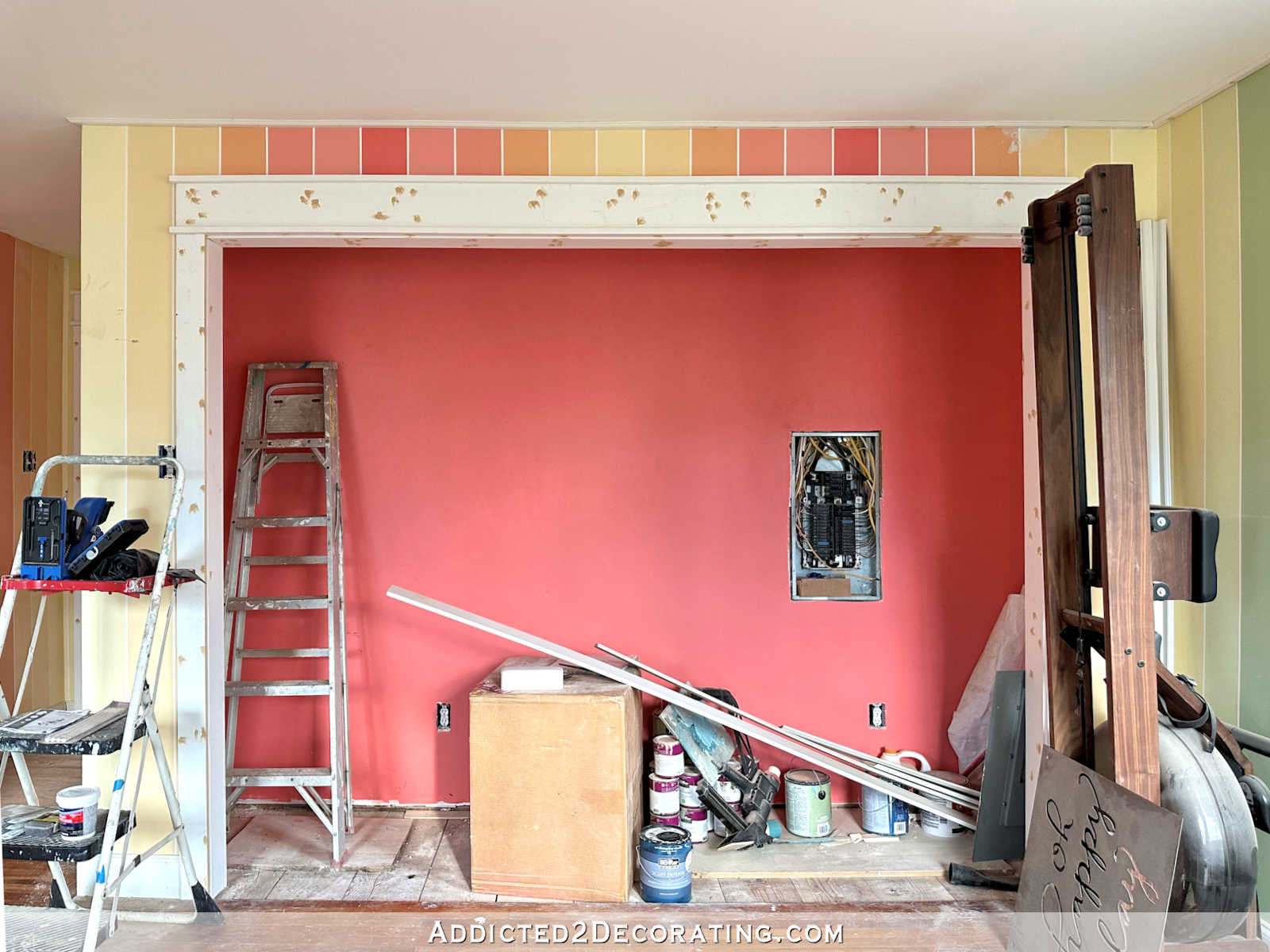 You can see in the picture below how this closet room looked before with a solid wall and a closet door on the right.
So when I decided to add new built-in closets facing the guest bedroom window…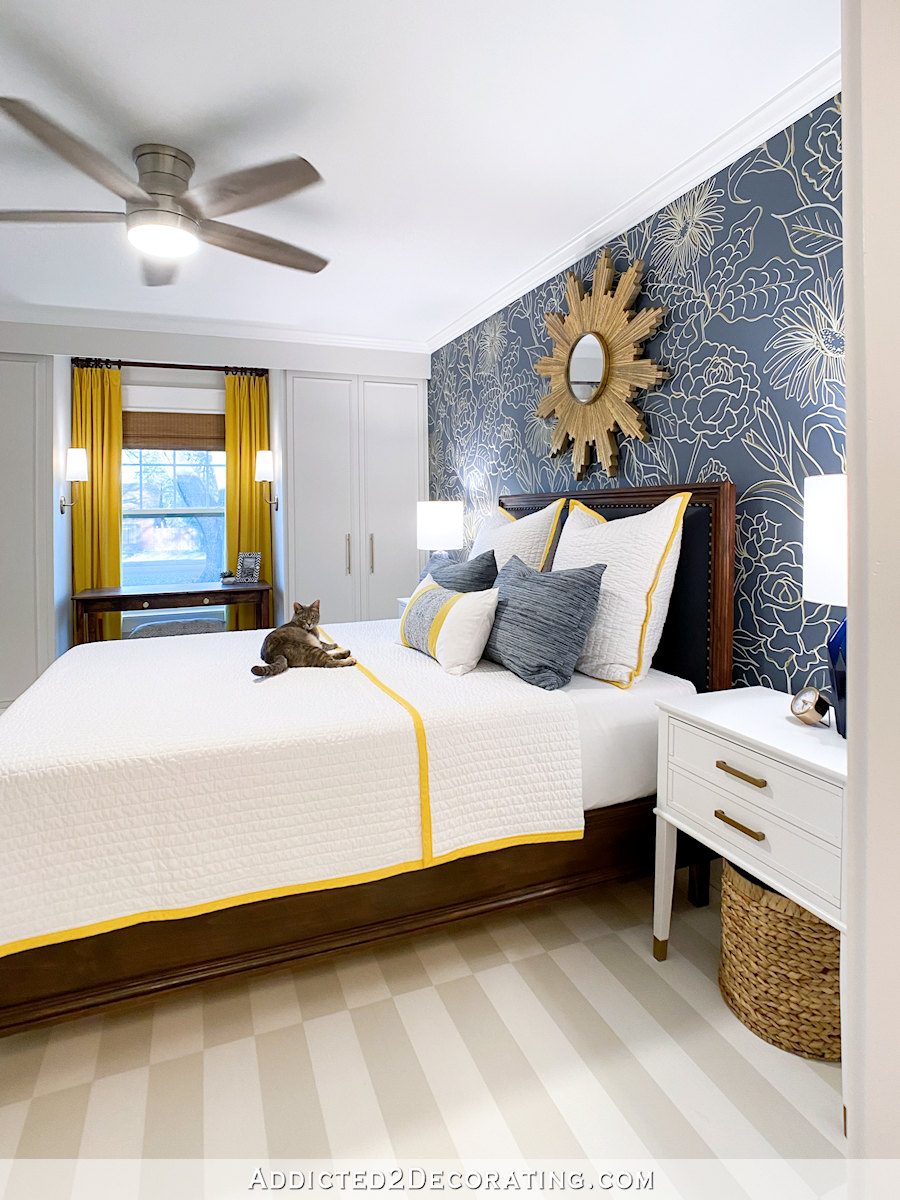 I put our drywall contractor on the guest bedroom closet door, and open the two closets in this room with a cased opening.
After that, I was left with two odd rectangles of hardwood flooring that didn't cover all of the new closet space. So I went ahead and took everything out, and now it has to be replaced.
The frustrating thing is that the Home Depot in my town used to carry this same unfinished red oak hardwood floor in stock, and it matches the original 70+ year old red oak hardwood floor in our house that completely.
But since 2020 and the supply chain issues have hit, I haven't seen it in the store, and the many times I've checked the website, it's not there either. So I'm forced to go as far as I can with what I have on hand, and then fill the rest with plywood. It's not an ideal solution, but since the entire floor will be covered with this foam gym flooring, it will work.
It can only be a problem if we decide to remove the foam mat floor and refinish the hardwood floor in that room. But I'll let Future Kristi deal with that problem. 😀
Right now, my immediate goals for this room are to (1) install the ceiling fan and the lights in the closet area, and (2) finish all the trim. Those two things go a long way in getting this room out of the "build" phase and making it feel more like a functional room.
Addicted 2 Decorating is where I share my DIY and decorating journey as I remodel and decorate the 1948 fixer upper that my husband, Matt, and I purchased in 2013. Matt has MS and is physically unable to work, so I did most of the work at home by myself. You can learn more about me here.
I hope you'll join me on my DIY and decorating journey! If you want to follow my projects and progress, you can subscribe below and get every new post sent to your email inbox. That way you won't miss a thing!