Hate is a strong word. Maybe I'm just tired and frustrated, and it's not as bad as I thought. But after spending yesterday staining my front porch which I spent a lot of time washing, sanding, and preparing for a new stain and sealer, I really wasn't happy with how it turned out. I ended up using Ready Seal in Dark Walnut, and it didn't turn out as well as I had hoped.
I planned to use Cabot Australian Timber Oil, and based on the real wood color samples I saw in the store, I chose the color Jarrah Brown.
I wish I had taken a photo of the Jarrah Brown wood sample at Lowe's. It was very nice. It's a medium-to-light brown with barely noticeable undertones. It's not green coffee, and it's not red coffee. It's just a neutral medium/light brown, and it's exactly what I like.
But when I opened it, stirred it, and tested it on an invisible board on my front porch, it red. I don't mean it has subtle red tones. I mean that's it red. I went to the Lowe's website to see what was going on, and as I scrolled through the customer photos of the Jarrah Brown listing, the colors seemed all over the place, from medium brown to deep red. Obviously, the differences are because it is applied to different types of wood, but the results are different! And I haven't seen anything like that beautiful medium/light neutral brown sample in the store.
I forgot to take a picture of the sample on my front porch, but this one is pretty close to what it looks like.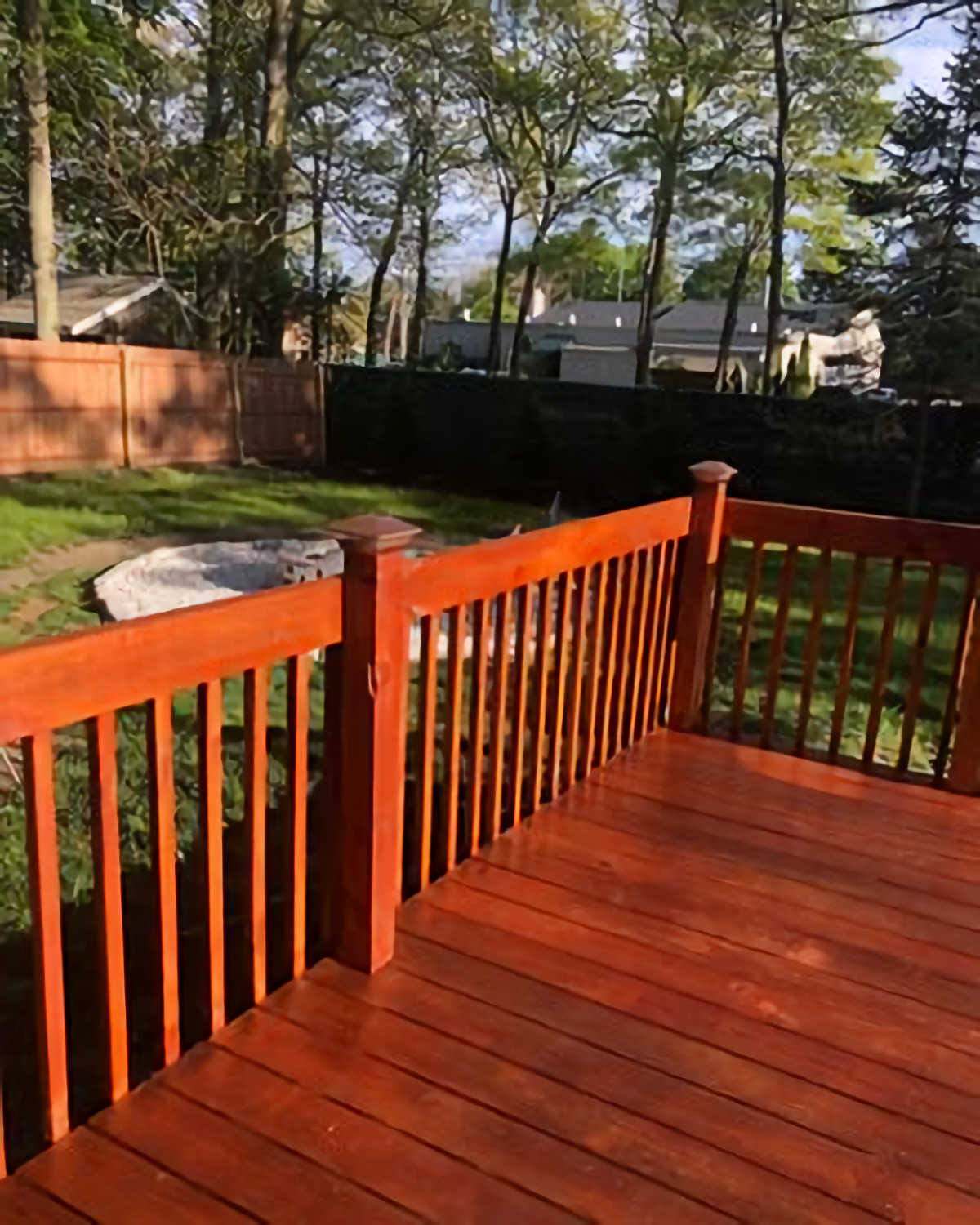 I'm so glad the customer was happy with that outcome, but to say that was the opposite of what I wanted would be a huge understatement. That deck looks like it's lit up for me.
I don't want to go back and see another color. I've spent a lot of time in the deck stain aisles at Lowe's and Home Depot reading labels, comparing sample colors, looking at customer reviews, and more. I have good luck picking a color by closing my eyes, swirling a few times, and then pointing at a can of stain.
So I decided to go back to my previous choice, which I bought and had at home. This is Ready Seal in Dark Walnut. I was hoping to do something lighter this time, but I really liked my Dark Walnut front porch the first time, so I decided to stick with it. But for the first time, I used another brand. This time, I decided to go with Ready Seal because it has excellent customer ratings. And it's better than Cabot Jarrah Brown.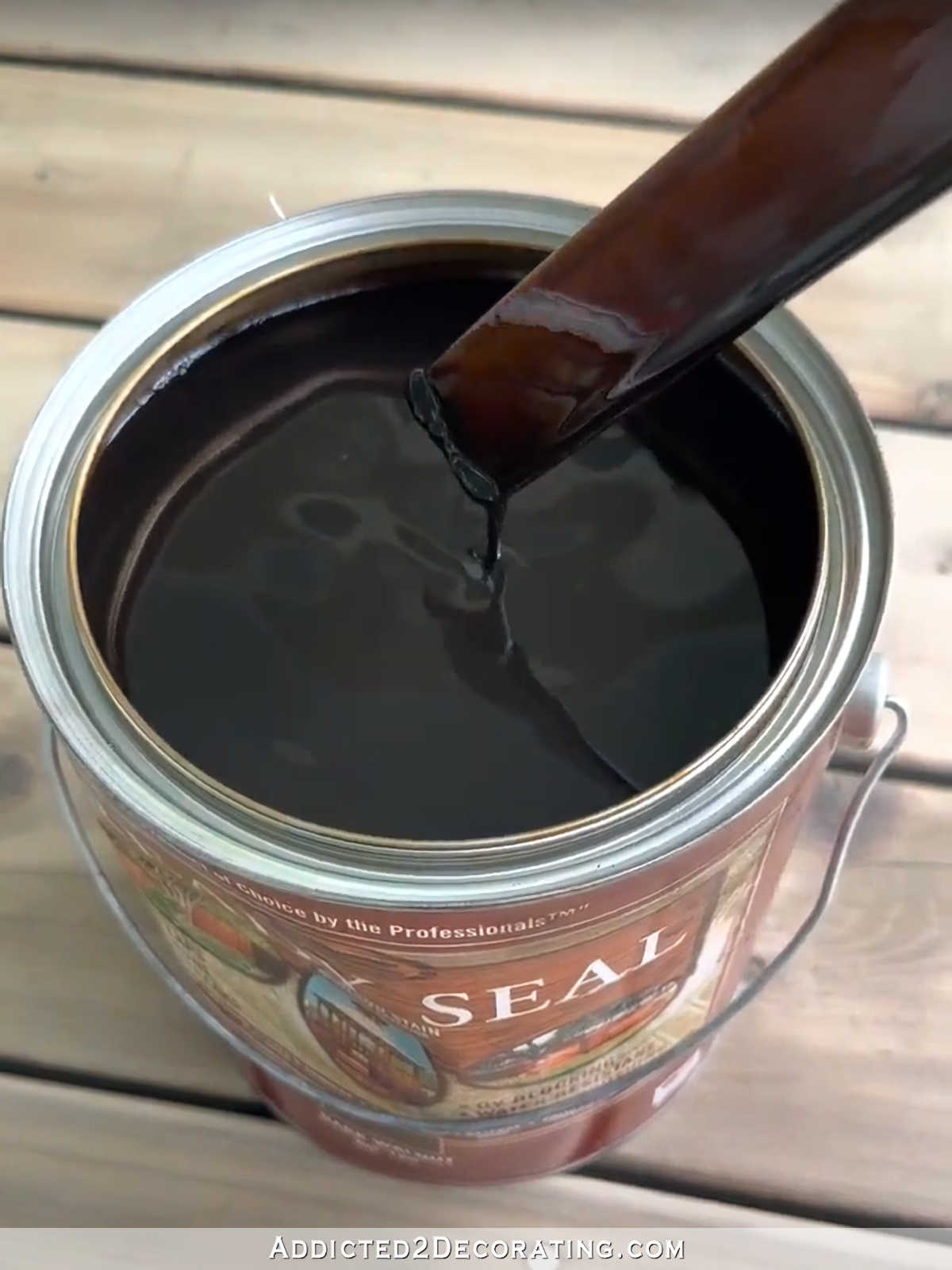 Well, I don't like it. The first time I stained my porch in 2018, I used Thompson's Timber Oil in Dark Walnut. It goes like this…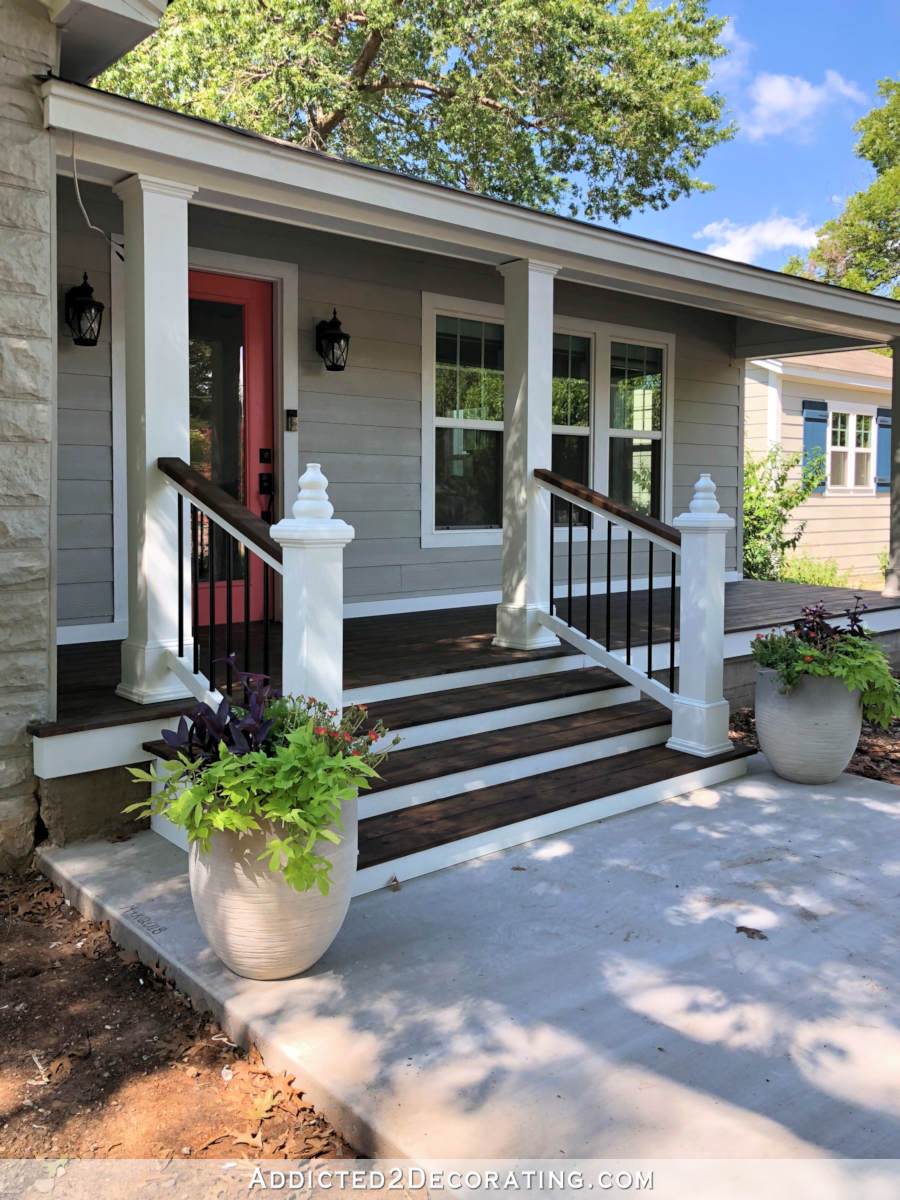 It's really dark, but nice and neutral, and looks great with the white trim and coral door. Here's how Ready Seal Dark Walnut is made…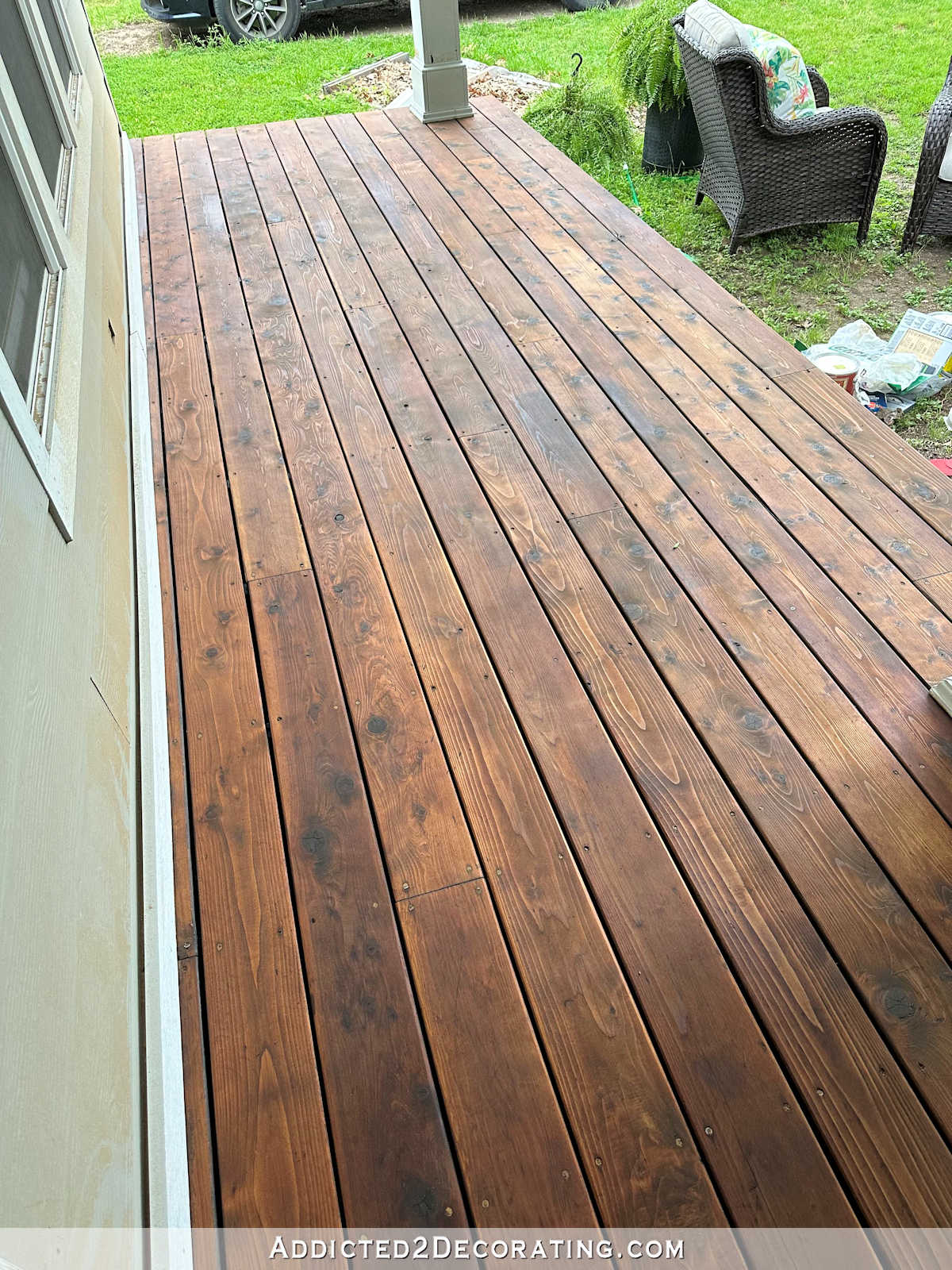 It's orange. I now have an orange front porch. I sidestepped the dreaded red with Cabot, but went straight to orange with Ready Seal. I should have stayed at Thompson's.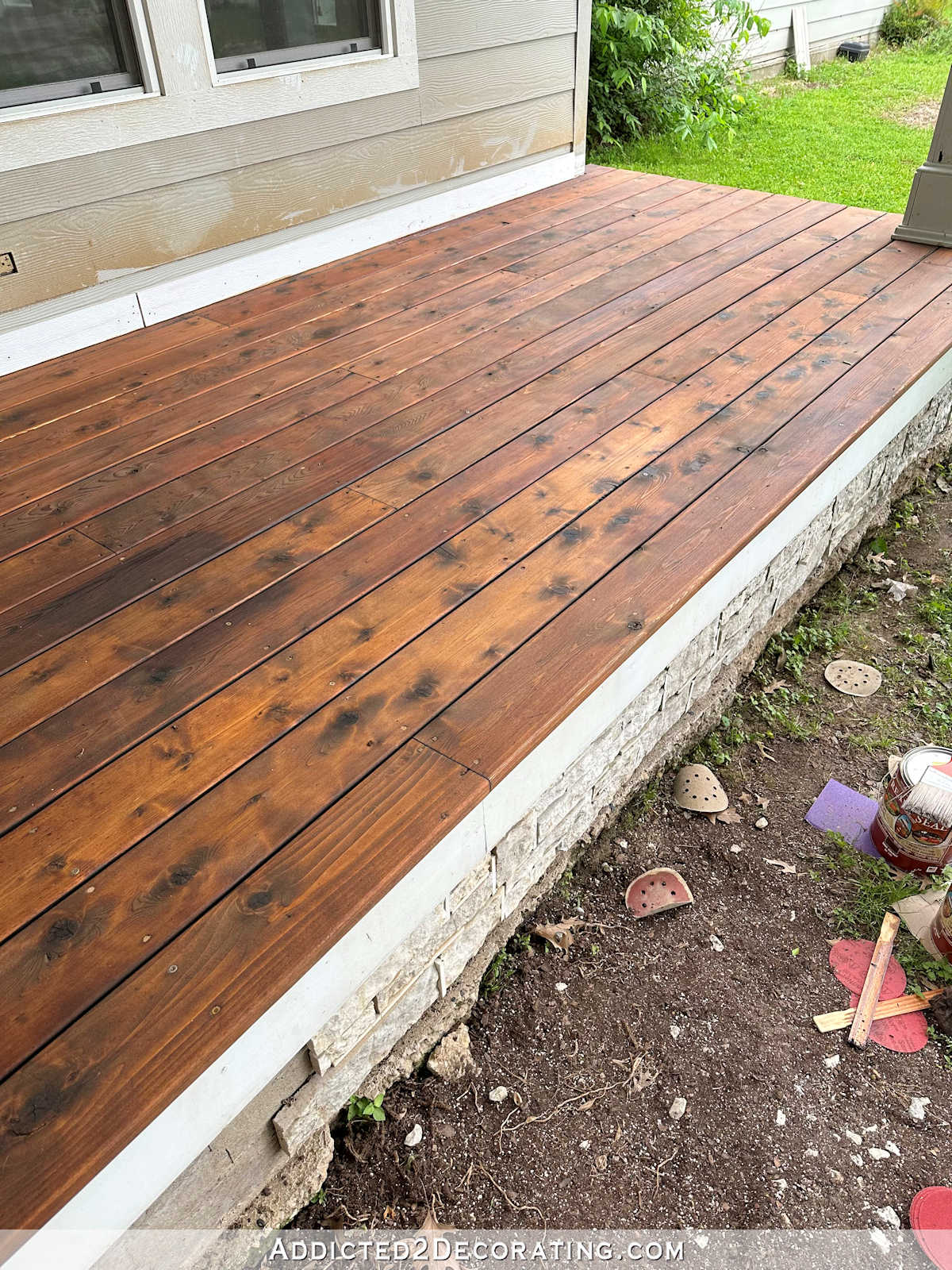 I am very frustrated right now. I know I'm the queen of "if I don't like it, I'll be the one!" But y'all, my studio cabinets will be delivered tomorrow, and the front porch remodel literally the last thing in the world I want to focus on the present.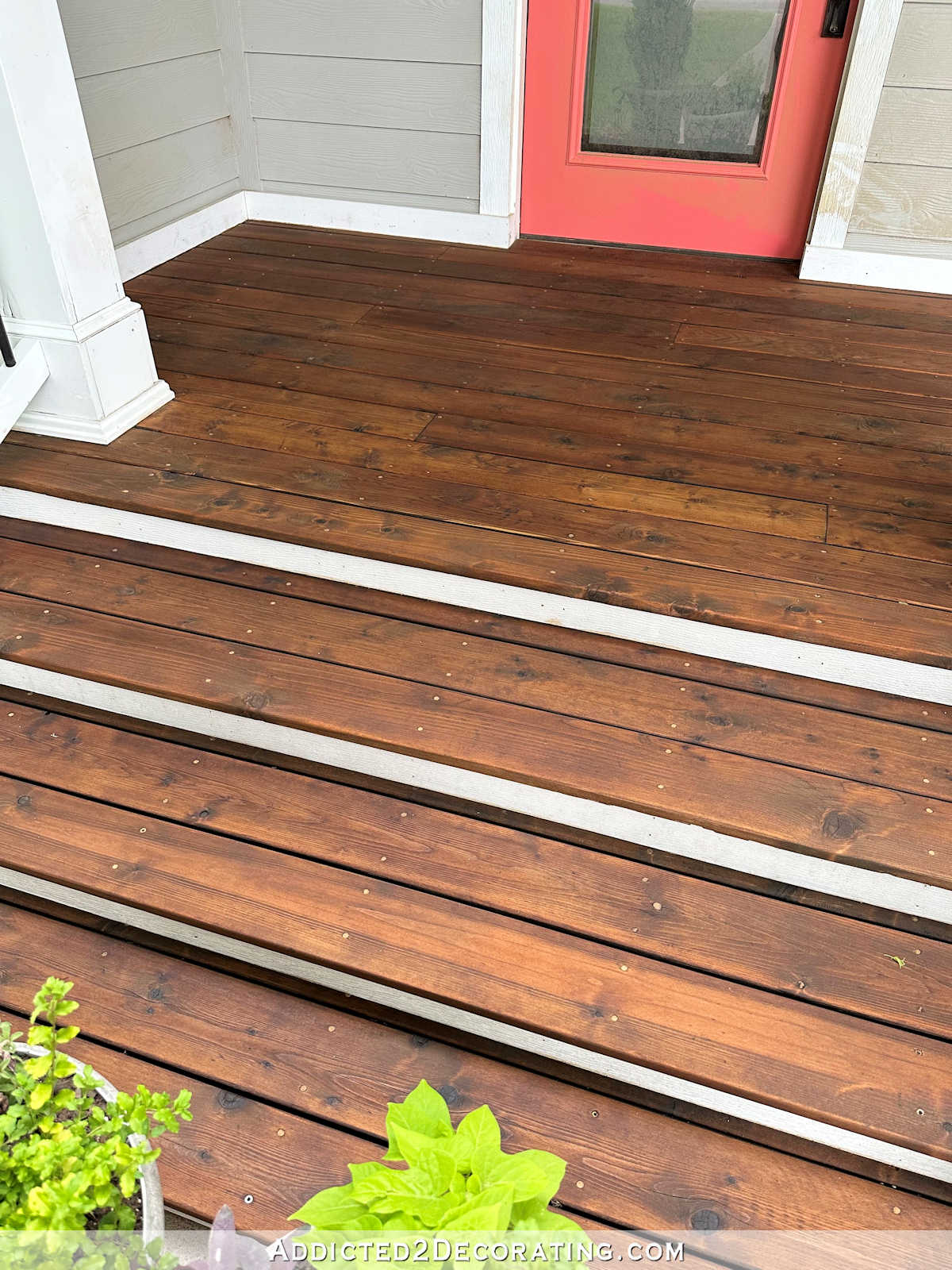 But it was terrible. Thompson's black walnut looks great on my coral front door. This orange is clashing, and I don't think I can live with this color. I am disappointed every time I walk out my front door, and for this to be the first impression of our home is not what I want.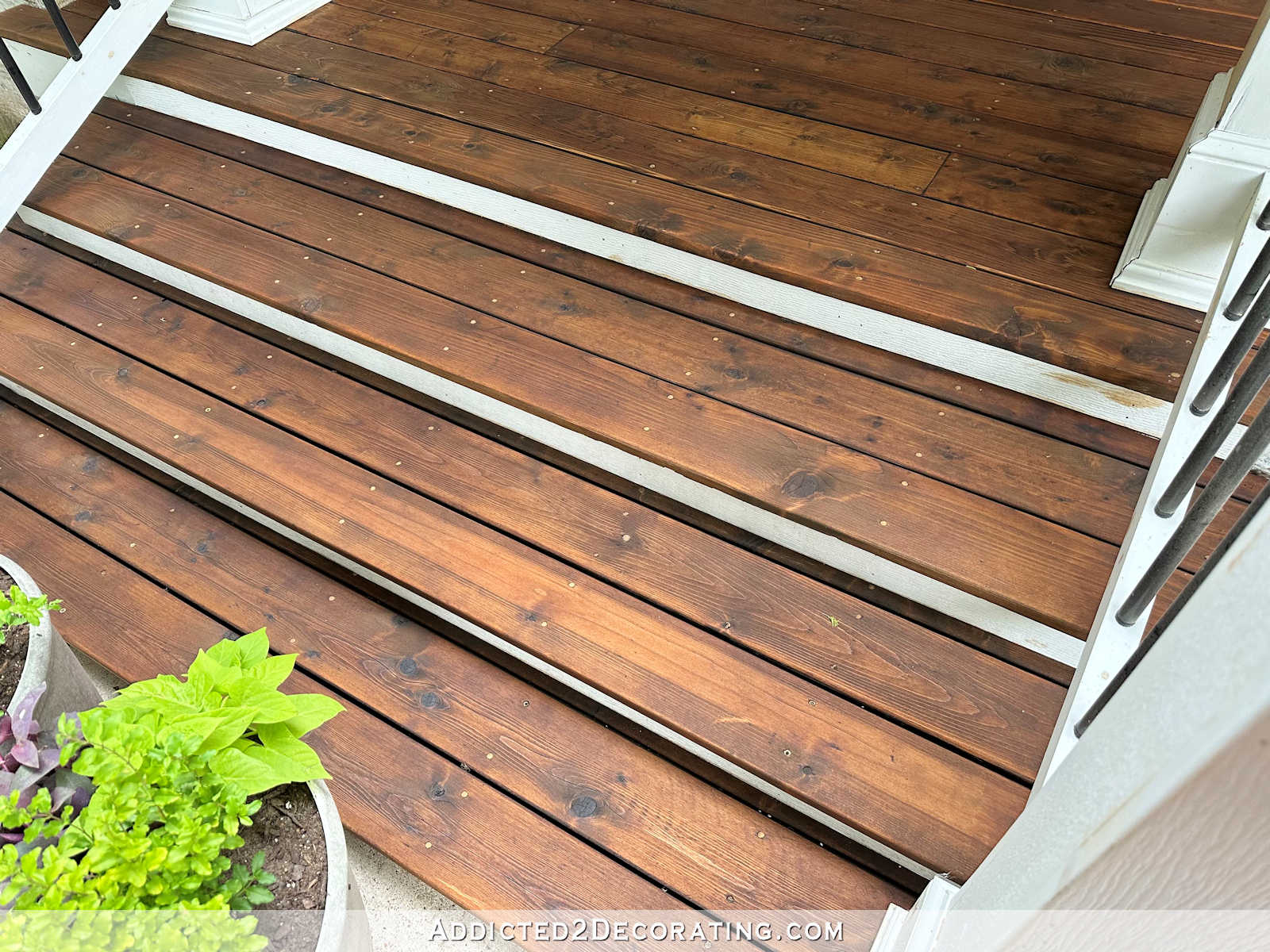 The good news is that from a distance, it's not that bad. It's not good, but it's not bad. (Please excuse the sanding dust I forgot to vacuum the siding before staining the porch.)
But even from a distance, it's still orange. And it's still fighting at the front door. It's barely noticeable from a distance. But as you approach the front door, the porch turns more orange the closer you get to it.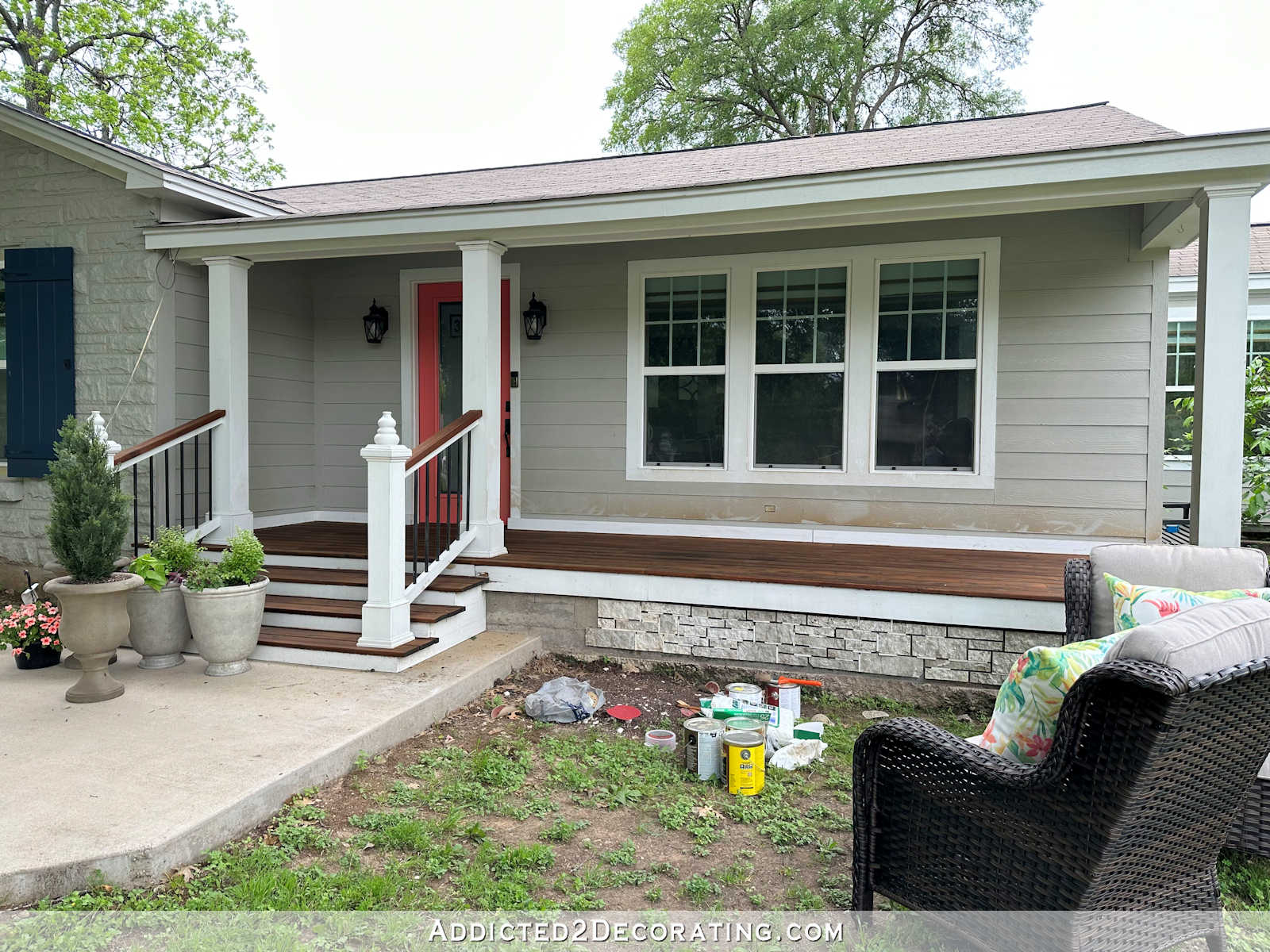 So now I need to figure out how to fix it. I called the company, and the lady I spoke with said they have a color called Mission Brown that is dark without the orange/red tones (a color I didn't see on any of the sample cards… ugh!), and I might use that to do another coat over Dark Walnut to cut through the orange. The problem with that idea is that unless the Mission Brown has real green tones to it, I don't think it will be enough to cut through the orange/red color of this Dark Walnut. I need an actual green or blue green to cut through this orange/red color. A neutral brown (which is how he describes it) may not be enough. But that's what he recommends, so that's an option.
He also said some contractors add pigments to the stain to get a custom color. He doesn't recommend that option because it might affect the sealer's performance, and it's something I'll have to try at my own risk (meaning, if the sealer's performance fails, it's not their fault, obviously ), but it's something I might consider. It should be a pigment compatible with oil-based products. Heck, I have little tubes of green and blue oil-based paint. I may even try adding the remaining stains to see if the orange/red color is removed.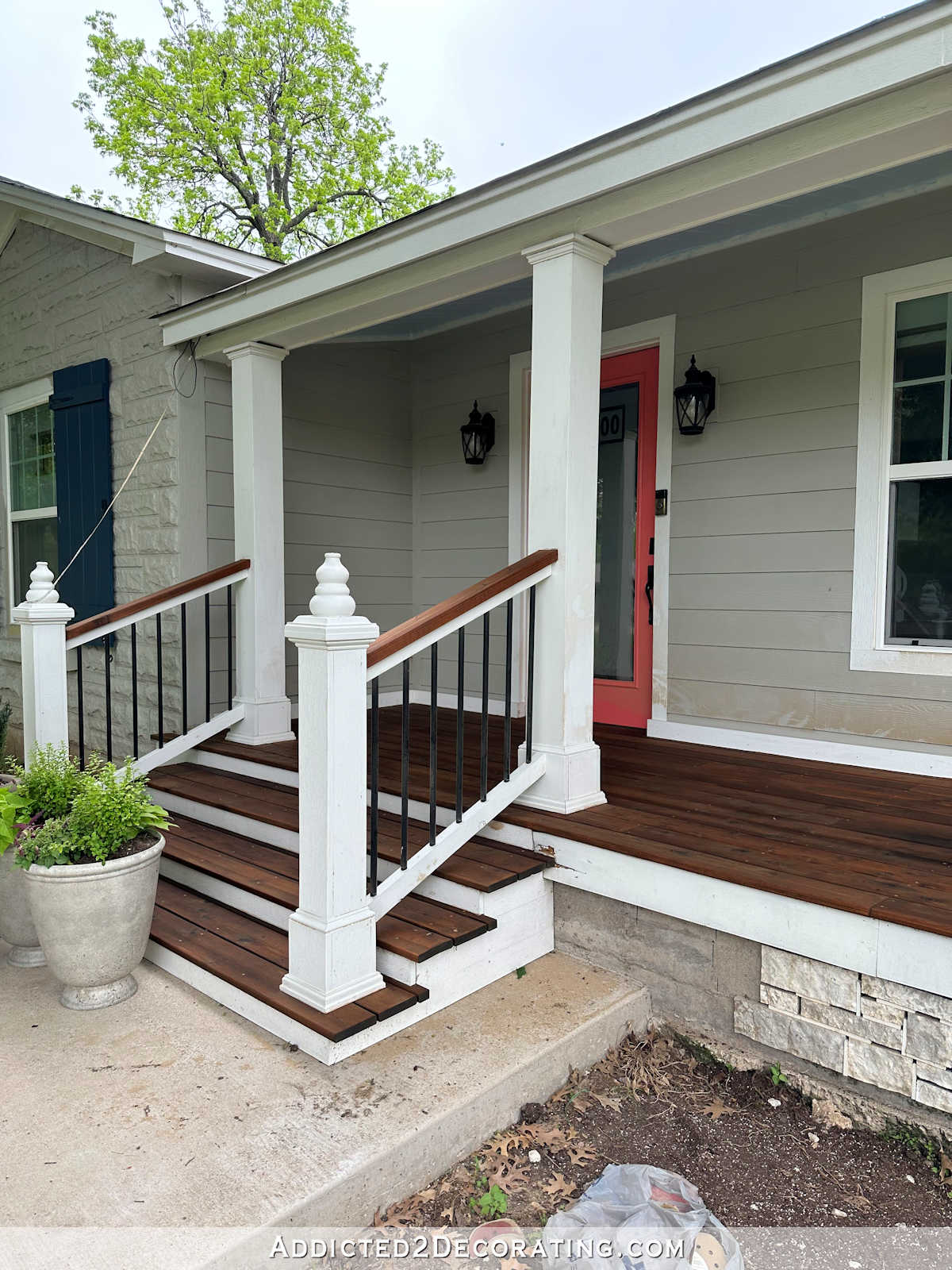 So I haven't figured it out yet. But what I do know is that I have to come up with a solution, because having an orange wooden front porch clashing with my coral door is not an option.
As far as the product itself goes (besides the color), Ready Seal looks pretty good. Applying is very easy. I only use a large 4-inch brush for oil-based products, and it goes on easily and smoothly. I stir it well before using it, and then stir it a few times during application just to keep the pigments from settling down. But as far as application goes, it's truly goof proof, just like the label says. Now I need to get the right color.