I put an important decision for the studio, and that is to decide on a countertop for the high wall of cabinets. It was a challenge because I needed a tall countertop. In fact, that wall is 19.5 feet wide, and the countertop spans the entire width.
There isn't any perfect option for a countertop this tall, and almost every option I could come up with would require a seam or joint in the middle. That's not good, but maybe I have no other choice. I did an option without a clear seam in the middle, but it can be a big gamble that may or may not look good.
Here are the options I've come up with so far…
Butcherblock Countertops
I remember our condo days when I bought it beautiful butcherblock countertops for our condo kitchen less than $200 per 8-foot slab. Those days are long gone. Butcherblock is less expensive than many solid surface countertop options, but it's not cheap. And finding high butcherblock countertops is a bit difficult.
I saw birch butcherblock at Home Depot that reaches 10 feet tall for $519.
That's not a terrible price, but since I'm cheap, and since I need a total of three to finish the room (two for the main wall, and one for the side wall of cabinets), that's over $1500 for studio countertops. . And, of course, that would leave me with a joint between two pieces of butcher block in the middle of the countertop.
It's great, though. And I love butcherblock. Here is a photo of the same butcherblock with an oil finish. It's such a beautiful color.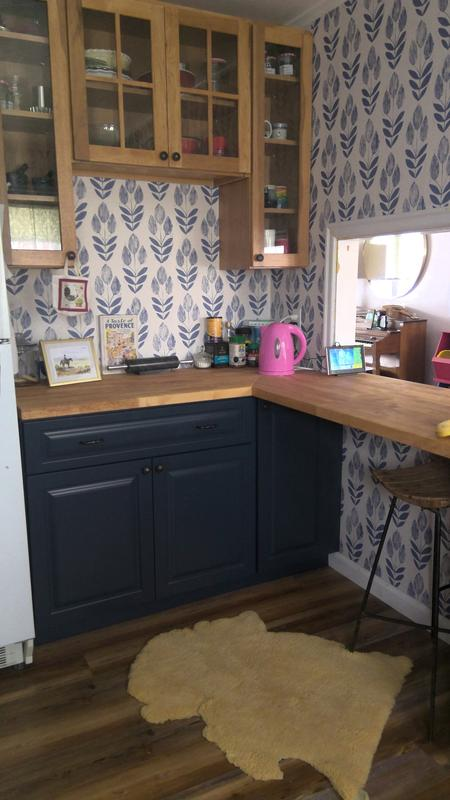 This particular birch butcherblock has excellent customer reviews. Lowe's also has a 10-foot birch butcher block countertop, and while the price is lower ($50 less per slab), its reviews aren't great.
So while butcherblock is a good option, I just don't know how I feel about spending over $1500 for countertops, while still having to deal with that joint between the two slabs in the middle -mid high wall.
Laminate Countertops
Laminate countertops can be a cheaper option than butcher block. And because it's a studio and not a kitchen, and because the laminate holds up well to art supplies, paint drips, and general everyday use, I think it is a good choice for studio countertops.
In the past, I made two very large work tables for the studio, and I used laminate tops on that. I chose to use white laminate for the tables.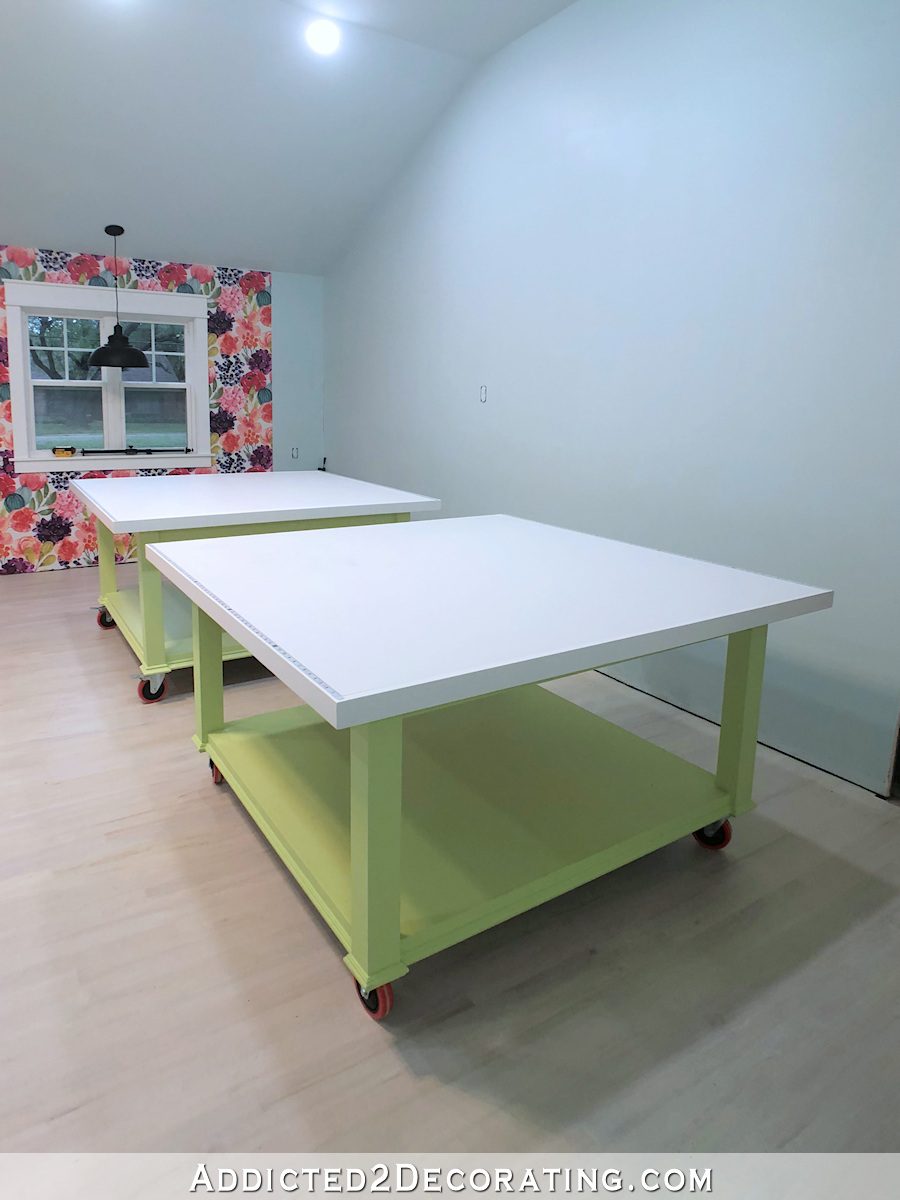 So when I go to laminate the cabinets, I choose something very different. I really liked the idea of ​​bringing a warm wood into the room, so the butcher block appealed to me. So I can do the same look with laminate. One option is this Wilsonart Fawn Cypress laminatewhich is $169.58 for a 60″ x 120″ piece.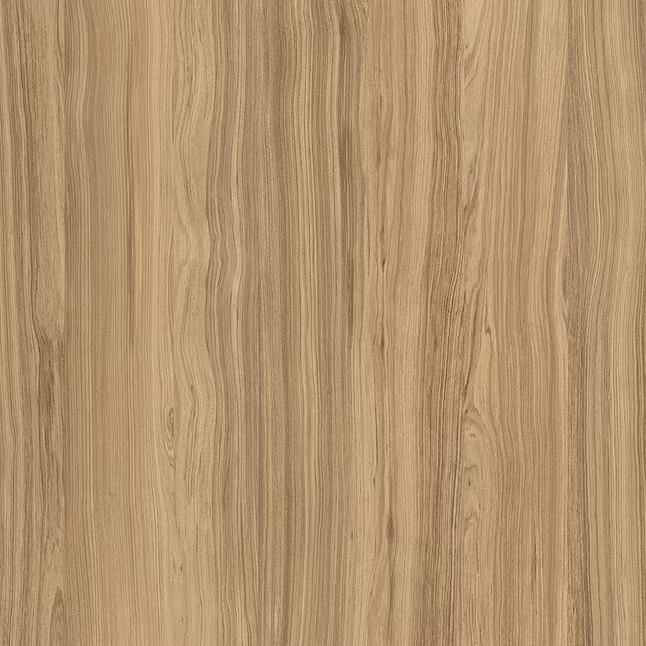 That's enough laminate for an entire long wall, which means that for the cost of the substrate (I'll probably use MDF) and supplies (Contact Cement, rollers, etc.), I can do the entire 20-foot countertop for about $420. That's a huge savings over $1125 worth of butcher block on the same 20-foot countertop.
This particular Wilsonart Fawn Cypress has a neutral color to it, and it's a fairly medium-toned wood color, which you can see on this countertop.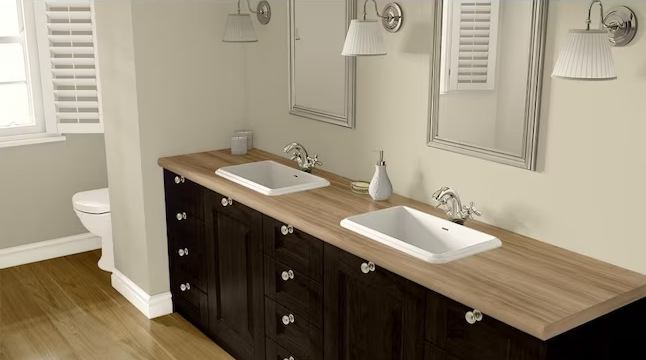 But of course, there are hundreds of laminate options out there, from many different companies, so I'm sure I can find one that works perfectly in the studio. So laminate is a very good option, and it is also relatively inexpensive. But again, I'll be left with a seam in the middle because the longest length I can find in laminate is 12 feet.
My Crazy DIY Idea
While both options are good, they still leave me with a seam or joint in the middle of the 20-foot wall. That's fine if there are no other options, but I've come up with an option that might work, and that might give a result that gives the impression of a solid 20-foot piece of wood countertop.
You know how butcher block countertops are made up of many small pieces of wood that are all glued together to create one long solid wood countertop? Again, I refer you back to Option 1, the butcher block from Home Depot…
Well, how about I simulate that look with real wood veneer? My idea is to lay my countertop substrate along the entire 20-foot wall and make sure it is smooth throughout (ie, without felt joints since I have to use three separate pieces to fit the entire length) , and then cut strips of real wood veneer and attach them so they mimic the look of butcherblock.
Doing that all the way around eliminates the need for a center seam or joint, and if I do a good job and really take my time and get the pieces nice and tight against each other, the I think I might end up with what looks like a piece of butcher block 20 feet wide.
It's a gamble, sure! But I can't get this idea out of my head, and I think it might work. It's a big project, for sure. Cutting all the pieces and then attaching them to each other can take several days just for one countertop. But it may be worth it to end up with what looks like a continuous, seamless, jointless wood countertop.
Does that sound like a crazy idea? Or does it sound like something that might actually work? Since I will be using real wood veneer, the cost will be more than the laminate option, but it is a huge savings over the real butcher block option. And this is the only idea I can come up with to give the impression of a seamless, jointless 20-foot countertop.
Do I need it? Or should I stick with a tried-and-true safe option like real butcher block or laminate and just live with the seam or joint right in the middle of the countertop?