This DIY wood slice picture frame is the perfect solution if you're looking for a creative way to display your family photos. Made with natural wood slices, it's a beautiful and unique way to display your cherished memories. And the best part is, it's easy to do!
Rustic Wood Slice Picture Frame
This rustic wood slice picture frame craft makes frames that will be a valuable part of your home decor. The finished frame is perfect for displaying family photos, children's artwork, or special memories. It also makes a great gift for friends and family.
It's great for a farmhouse style decor theme, and I also think it will make a good choice for a wedding photo display if there is a rustic theme.
Where Can I Get Wood Slices for Crafting?
The best place to get wood chips for crafting is in your own backyard. If you have thick branches that fall from trees, this is a great way to use them. You can slice it into thin circles and make this craft using free materials.
You can also find wood chips in retail stores and online. Sometimes you can find slices at the dollar store but almost all big box stores and craft stores sell them. You can also ask friends or family if they have branches or twigs in their yard that you can chop up and use.
Should I Paint This DIY Picture Frame?
You can leave this wooden frame as is if you like its wooden look. If you, or the kids, want to improve it, you can also paint the tree. This is a personal preference.
If you choose to paint the wood slice picture frame, I recommend using acrylic paint. You can also use spray paint if you are painting everything in one color without specific details. And to add a little "extra" special look, consider spraying glitter paint!
What Glue Holds Wood Best?
I like to use hot glue for this craft but E6000 works well too. Another option is to use Gorilla Glue. When using these glues, you have to be careful because each one has its own downfall, like burning yourself with a hot glue gun or sticking your fingers with Gorilla Glue.
How Can I Make My Wood Slice Frame Unique?
There are a few things you can do to make your wood slice frame stand out. Below are some of my favorite ideas.
You can add decorations like rhinestones, buttons, or beads.
Of course, many people love (or hate) glitter and it adds a fun look to the frame.
You can also add some greenery or flowers for a pop of color. Unless you're using evergreens, be careful using live flowers or herbs because they tend to wilt and turn brown quickly.
Another idea is to personalize it by adding a name or special message using a wood burner or by painting it. A monogram in one corner can be another fun way to personalize the frame.
You can also distress the wood for a shabby chic look.
Use a different color of paint or even stain for the wood instead of the natural look.
Supplies needed
How to Make a Wood Slice Picture Frame
Before you start, I recommend washing any wood chips you got from outside. This will only ensure that you don't have any animals left on the skin. Allow them to dry completely before you start creating. Once it's dry, sand off any extra bits that stick. Especially if children are helping with this, you want to avoid splinters.
Now, prepare your base frame by removing the glass and picture. Ditch the paper photo and choose a personal photo that fits here. Return your desired image to the frame and the glass in place.
Now, you will start gluing your wood slices. Add a little glue to the frame and start placing the wood pieces around the edges. I like to start with the larger slices first, then fill in the gaps around them with smaller pieces.
Once the frame is covered, you can go back and add small ornaments. I used some fake berries and some acorns. Add it to any open spaces, or create a small cluster in a corner.
When you are satisfied with the look, clean the glass and display your picture frame.
More Wood Slice Crafts
I love the idea of ​​using natural elements in crafting. Wood chips have become very popular in recent years, for good reason. I really like how it looks! Below are a few more of my favorite ideas that feature simple wood slices. Bookmark these ideas, print out the tutorials, or pin them to Pinterest to make on the fly!
Yield: 1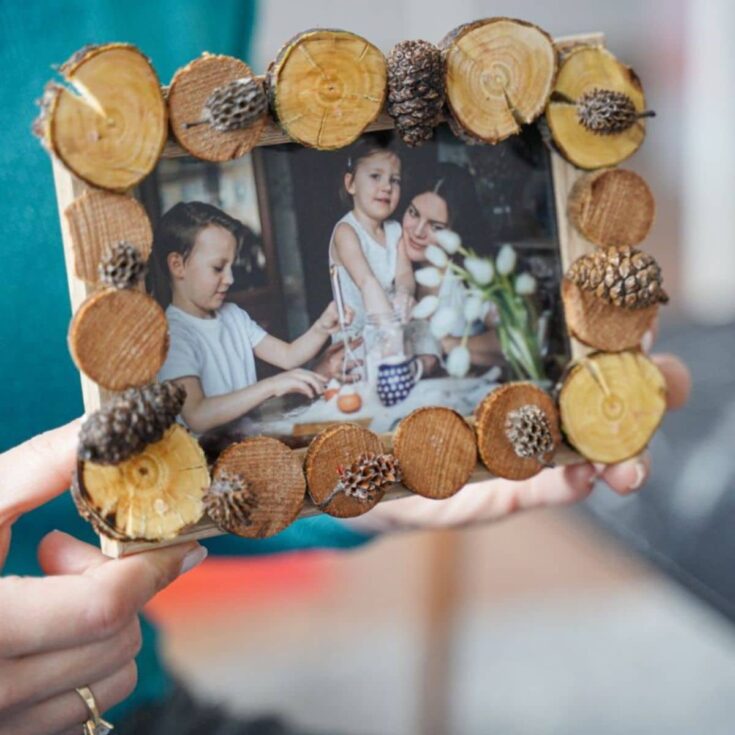 Update a basic photo with this beautiful and rustic wood slice photo frame idea! Super easy and quick to make, it's a great gift idea!
Active Time
15 minutes
General Time
15 minutes
Depression
easy
Estimated Cost
$1
Notes
For added beauty, you can paint the wood slices before placing in the frame.
Recommended Products
As an Amazon Associate and member of other affiliate programs, I earn from qualified purchases.
Finished Project Gallery
Spray with glitter paint and add jingle bells to the side to make it a great Christmas decoration!