The old storage medium proved a difficult puzzle to crack for some of Skrillex's Gen-Z fans, who couldn't listen to alternative CD versions of the "QFF" tracks.
During his recent performance at Madison Square Garden, Skrillex gave away a limited batch of 300 hand-labeled CDs, but some of those lucky enough to get a copy had a bit of a problem with the old hardware.
The CDs are said to contain alternate versions of tracks from hisSearch For Firealbum, possibly earlier demos of songs that eventually led to the final cuts we hear today. We can't tell you for sure, though, because after the show, fans quickly took to Reddit to express their frustration at not being able to access the tracks.
Gen-Z generally seems to have no problem ribbing the baby boomer generation for struggling to rotate a PDF, but this recent debacle that occurred in Reddit shows that the next generation of ravers might have their own technological Achilles heel which is conceivable.
"I don't have a single piece of hardware that can play CDs… except my car," wrote one Redditor.
"Just to bring you up to date, they are burned to SACD which I guarantee probably 2 or 3 people who get these discs have," complained another. "I'm debating whether or not it's worth buying one to get it."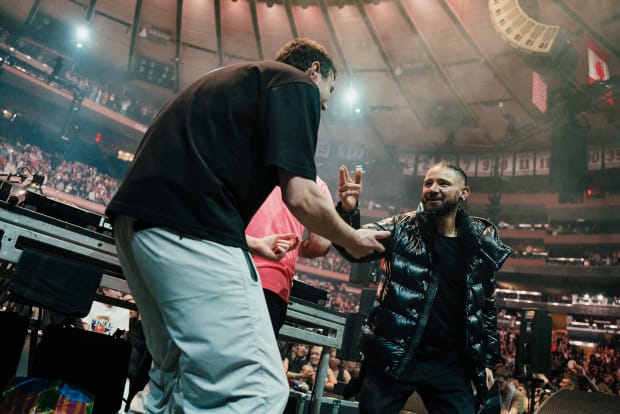 The validity of the physical copies has been questioned, but it seems the consensus is that they are legitimate. In a separate dizziness on the r/skrillex subreddit, a fan who received a CD said it had a QR code.
"So I looked into it a little more, there was a QR code on the back for downloading the Dropbox album so I think that made me lean towards where it came from. [Skrillex]"they wrote. "That's legit."
Either way, if you're one of the lucky few to get a copy of one of these coveted pieces of electronic music history, there is still hope.
Follow Skrillex:
Facebook: facebook.com/skrillex
Twitter: twitter.com/Skrillex
Instagram: instagram.com/skrillex
Spotify: spoti.fi/30OEWUh