I didn't make as much progress on the master bathroom shower this week as I expected, but now that the shower wall tile has finally started, I hope this project really hits this week. I didn't even think I'd finish (our shower was so big!), But I hope it gets very close.
I didn't do shower tile work on Tuesday because, frankly, I was paralyzed with doubt and hesitation after reading all the comments in the last post. (See: Two New Shower Wall Tile Design Options) And I didn't work on Wednesdays, so yesterday I made myself a start. I will not allow myself to waste another day in doubt. I thought that if I was just starting out, things would become clear to me as I progressed.
My first big hurdle was figuring out how to make the row of tiles along the shower floor. Because I had two linear drains located on the side of a wall (the shower head wall) instead of a circular drain in the middle of the floor, which created a bit of a challenge to tiling the side of the slope. You can see what I mean in this photo.
The view in that photo is a bit weird, so you have to take my word for it that the floor to the left of the rounded area is actually a floor level. The circle area is the area where the slope changes, and then the area on the right slope to the linear drains.
I don't want to try cutting 12-inch tall tiles with the perfect angle to fit right because it creates an issue of where to start. If I start with the shower head wall at the bottom of the slope, and use the entire tiles on that wall, then I have to cut the tiles at angles that go up the slope, and that will leave me with cut tiles that seen above. opposite wall visible from the bathroom. That's not terrible, but I don't like the idea.
If I start with the most visible wall (i.e., the wall opposite the shower head wall) with the entire tile at the bottom, that means that as the floor starts to tilt, I have to fill the bottom with the entire tiles with cut slices of 12-inch-wide tiles. I just found myself wasting an entire box of tiles trying to get the smallest slivers where the floor started.
So after checking out Houzz for some ideas on how to manage the slope, I finally found the answer. I saw two bathrooms that looked like a tiled "baseboard" design along the shower floor using small rectangle tiles (like standard 3 "x 6" subway tiles) installed vertically with tall, thin accent tile on top to form the baseboard. see. So I decided to try mimicking that look, which would make it easier for me to cut those narrow tiles to fit the slop on the floor.
I started by using high level foam to draw a level line around the shower at baseboard level…
And then using 3 ″ x 6 ″ white subway tiles to fit the larger rectangle tiles I would use on the main part of the shower wall, I cut and installed them vertically to fit the long line of " baseboard "I drew. Then I added a thin 1/2 "x 12" jolly trim tile on top.
This design surrounds the entire shower along the floor, allowing me to cut smaller tiles to fit the slope of the side walls more easily, while creating the visual appearance of a "baseboard" on shower.
I used two rows of jolly trim tile on top of the "baseboard" tiles to create a classy basecap trim look …
Once the "baseboard" tiles have been installed, the rest is very simple.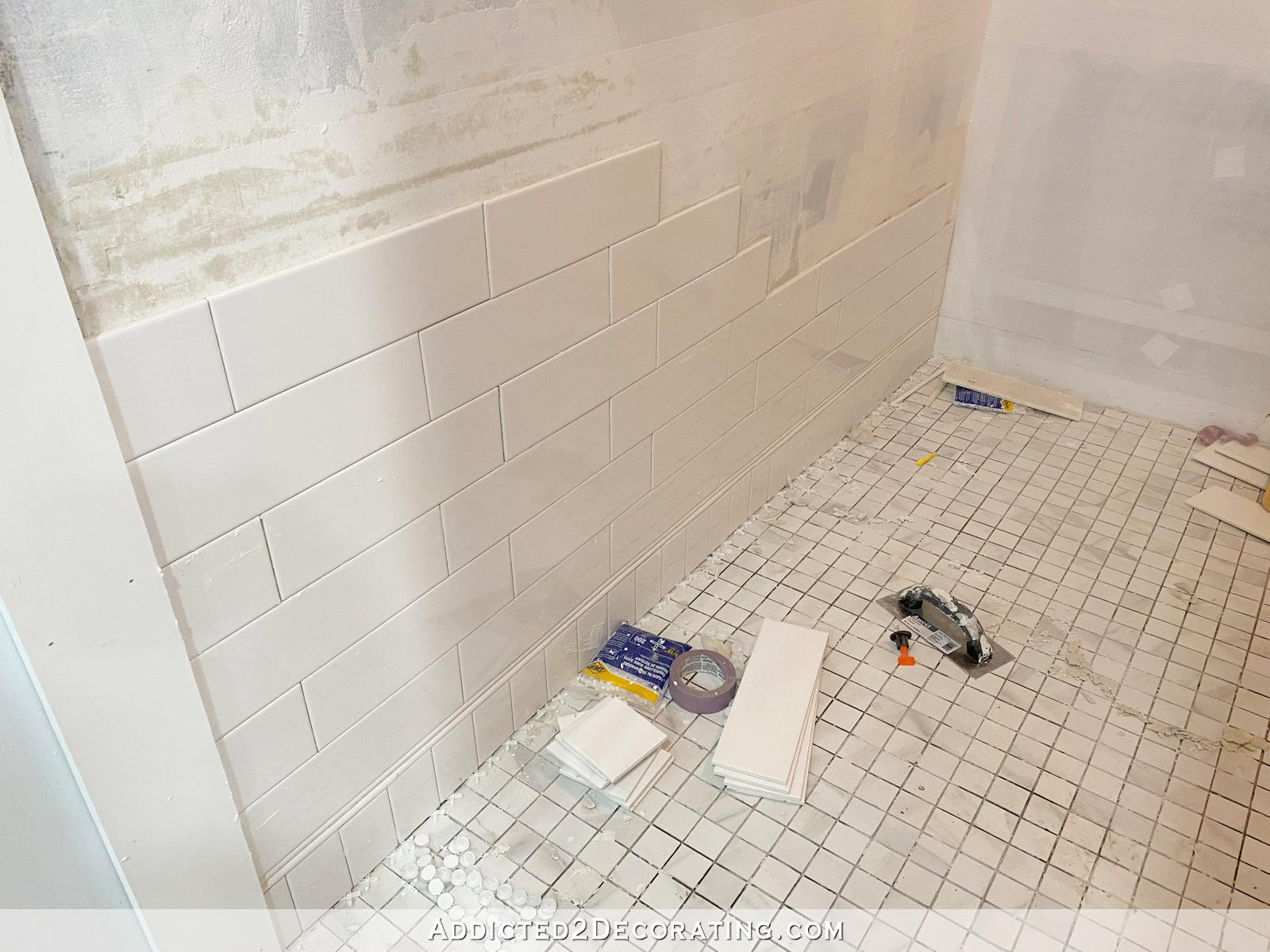 That's what I got yesterday because the mortar I was mixing was already starting to dry out of use. And when I had cleaned my utensils and had run out of my bucket, washed it, and was ready to use again, it was too late to mix more and keep working. (All the mixing of the mortar and then cleaning up afterwards took a lot of time !!) I was very disappointed, as I had high hopes that even just one wall would be finished yesterday. But as I always do, I exaggerate the amount of work I can finish in the allotted time.
You'll notice that I have six rows of wall tiles, and not even a single row of glass tiles. I am
After reading your comments, I decided to go with another design. I'll keep it to myself for now just because I don't want any ideas to put me back in a state of doubt. 😀 I'm done thinking now (for sure this time), so hopefully I can show you the finished design this Monday.
And I'll leave you with a couple photos of my assistant yesterday.
My sweet Cooper. He likes to be with me (or at least have free access to me) all the time. While I was working, I opened the back door, which exits his fence in the yard where I put my tile saw. So he goes out a little while, and then comes in a little while. And of course when he's inside, he wants you near me. So he made himself comfortable in the corner of the shower and slept a little while I worked.
He slowed me down a bit because he wanted to follow me everytime I was outside, then he would insist on sniffing everything multiple times (I'm sure he missed his calling as a drug sniffing dog), but I don't have. the thought he weakened a little. 🙂 How can I be angry with that cute face?
Addicted 2 Decorating is where I share my DIY and decorating journey as I remodel and decorate the 1948 fixer upper that my husband, Matt, and I bought in 2013. Matt has MS and can't do physical work , so I do most of the work at home on my own. You can learn more about me here.
I hope you join me on my DIY and decorating journey! If you'd like to follow my projects and progress, you can subscribe below and send each new post to your email inbox. That way you won't miss a thing!