Now that Matt and I have a wheelchair van, and we've always been out and about, I've been thinking a lot about our driveway situation (or lack of driveway situation). At one time, it looked like our house had a gravel passage, but the gravel was usually lost over a long period of time. Since we moved into this house, there have been remnants of the gravel driveway in the past.
Also, the original passage from the street to the front of the garage, which you can see here. This picture was taken when the garage was still a garage, and before I could do any outdoor updates.
But the "driveway" is a straight shot from the road to the garage doors.
Then we made the garage into my studio, which meant removing those garage doors and closing the front wall, and then we added a carport to the back of the studio. So now, our "driveway" is at least twice the length of the original because it goes to the side of the studio house, and to the back where the carport now sits.
This is an old photo taken before the carport was added, and before the concrete pad was poured under the door, but you can see that the front garage doors have been replaced with windows. That's why it no longer makes sense to park in front of the studio, even if I still do.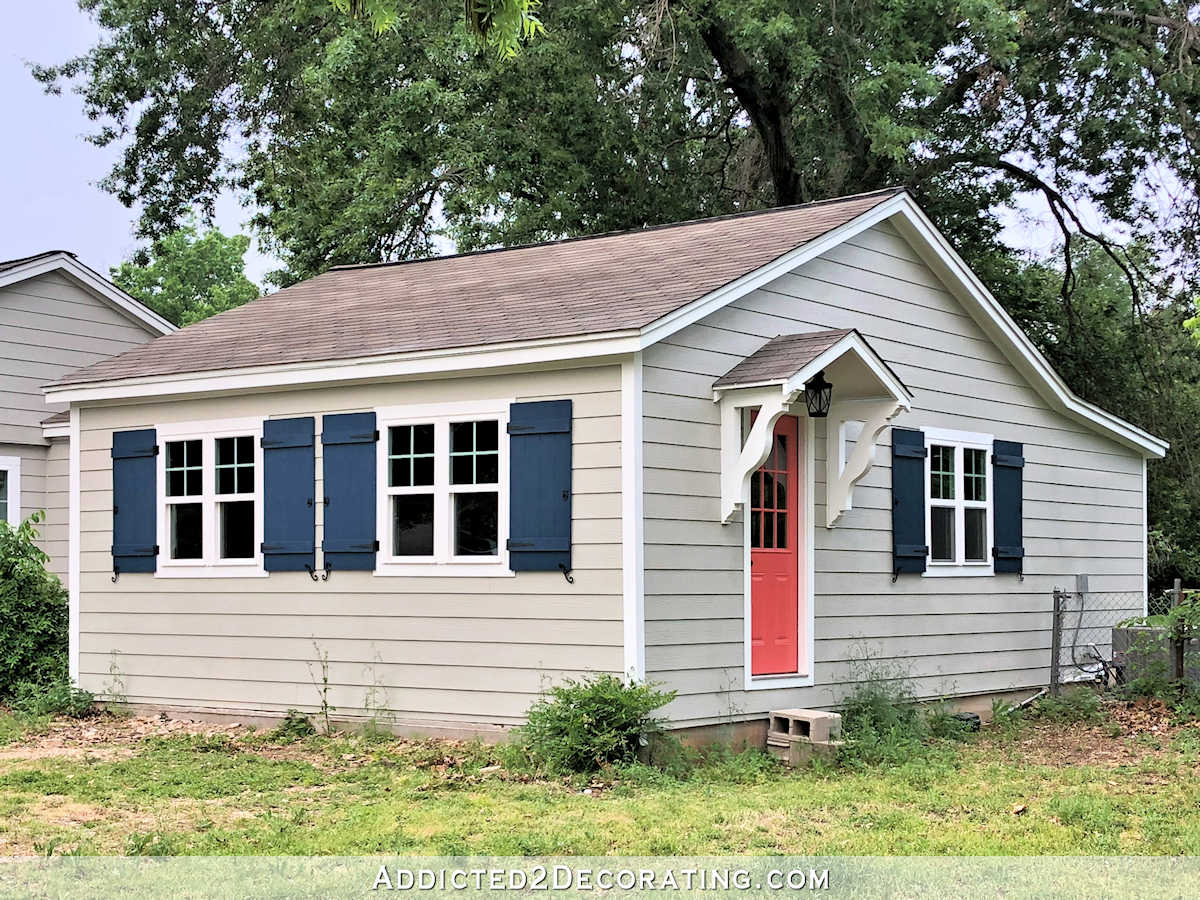 But if our track is finally poured, it won't go in front of the studio and dead end in front of the studio. Instead, it curves and goes to the side of the studio (I usually park next to that side door and use that door as my main entrance and exit), and continue back to meet the carport, which again, is not shown in the picture. on top.
All to say that our driveway could be at least twice the length if we kept the garage as a garage. And that's why we haven't poured a runway yet. 8.5 years have passed, and we still don't have a road because I only consider it concrete, and it costs very little.
So I'm starting to think of other options. Have you ever heard of the chip seal? Do you have a chip seal driveway? If so, I'd love to hear your thoughts.
Chip seal is new to me, and it only recently caught my attention when I started seeing ads from a local chip seal company in Waco every time I logged in. on Facebook. From what I understand, the chip seal starts with an asphalt base, and then the gravel is inserted into the surface of the asphalt when it is still wet, giving the appearance of gravel or exposed aggregate surface, but it is made of a fragment. at the price of concrete.
I have to admit that it has a very nice look to it, but all the pictures I see from this local company seem to be of country roads or routes to homes abroad. And one of my main issues with the pictures I saw was that none of these roads or trails had clean sides.
That is, when pouring concrete, they will first make a form for the edges using wood and ground stakes to keep the forms. If you've ever seen concrete poured (which I'm sure all of you have) you know it. Here's a photo from when our new front sidewalk was poured. They made a shape for the edges using 2 x 4 boards, and then poured the concrete inside the shape.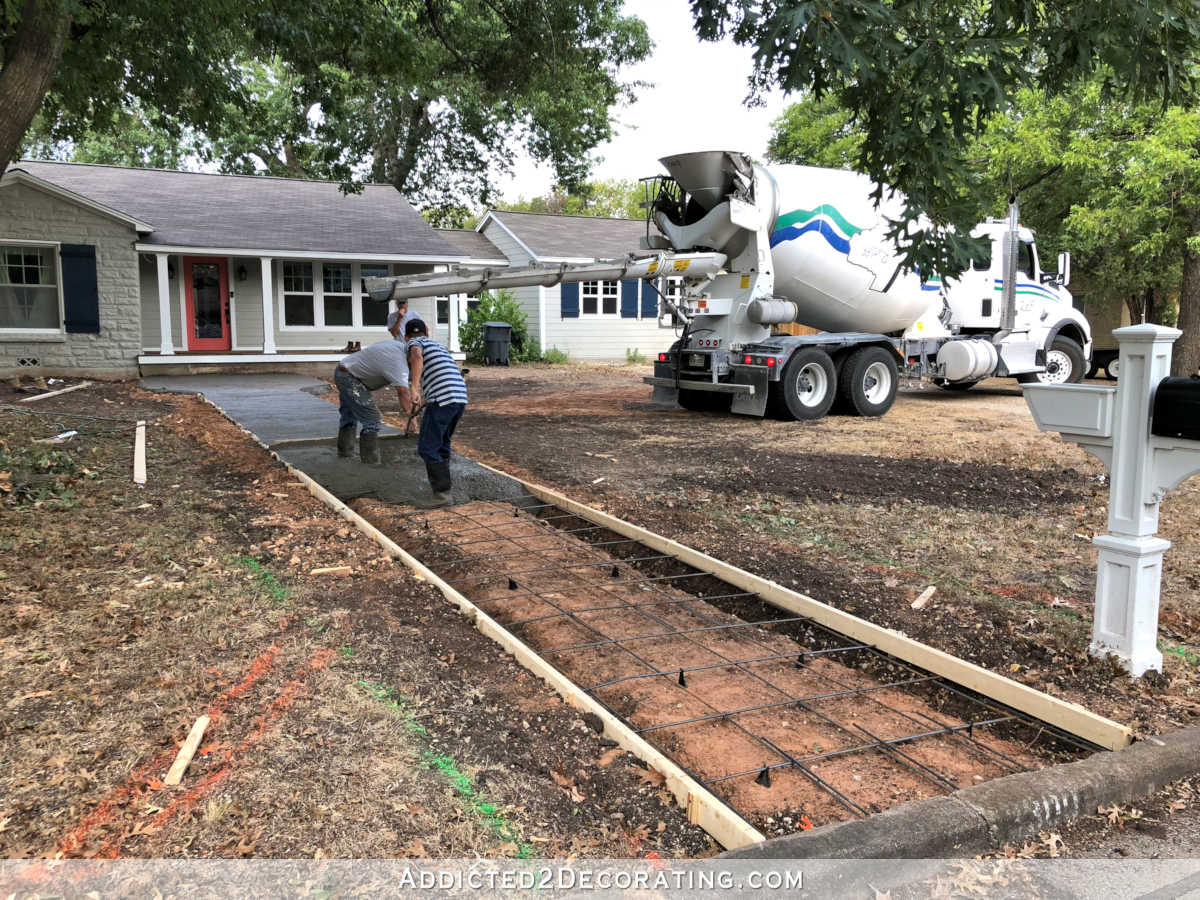 When the concrete is dry, the shapes are removed, and the concrete has nice, clean, defined edges.
So that's what I'm used to, and that's what I like.
When I called the company to ask about the chip seal, it was one of the main questions I wanted to know. Can the chip seal be poured in such a way that it has defined edges as you would get in concrete? The answer is, "Well, like that."
And that's what made me not jump with two feet on this idea. I know this may seem silly to some, but I like the defined edges almost as much as I want (and should) symmetry in my life. If his answer is emphatic, "Yes! We can provide the specified edges, "then I would not hesitate to choose the chip seal over the concrete, because I really like the look of it.
Here are some examples. I love the way this one defines the edges using cobblestone. So that could be an option for our path.
Here's a gray, so I'm guessing you can choose from a variety of gravel colors.
Here is another gray chip seal passage with a stone insert.
That's why I considered it. I like the look of it overall. I think it's very pretty and looks like something you can see heading towards a very cute cottage. But since I had no experience with it, I thought about how good it was, and also thought about the pitfalls. Is a stone boundary the only way to get the specified edges? I'm just not sure. So if you have experience with chip seals, I'd love to hear your thoughts!