Things got real yesterday. After talking about my studio, making plans, changing plans, and weighing different ideas and possibilities for literally years, the time has finally come to get things done. I came home from lunch with my mom and brother yesterday, and guess what was sitting on my orange front porch!
That's all of my IKEA cabinets that I ordered for the studio. When I was driving and saw that, things became real. I couldn't stay stuck in the studio planning stage forever. After dragging it out for years, that phase is finally over. Now is the time to make a plan of action.
I wasn't really sure what to expect with this order. The IKEA order confirmation says everything comes in 25 packs. Ummm…that's not 25 packs. That's 71 packs! 😀
Each cabinet carcass comes in a box, each pair of shelves comes in a package, and each individual drawer front and cabinet door comes in an individual package. And then each pair of hinges comes in an individual package. So if we count the hinges, that means 83 packages were delivered to my front door yesterday.
It took me a while to find a place to store everything for the next few days, bring all the packages inside, and then inventory everything to make sure my complete order brought. And to my surprise, every single item I ordered was delivered. That is an amazing feat! I must admit I was impressed by that. With an order consisting of 83 individual packages, I expected at least one mistake, but there was none. I haven't opened all the packages and made sure everything arrived in good condition, but the items seem to be well packed, so I don't expect any problems.
However, all that to say as of now, my hideous orange front porch should be put on the back burner. I'm on a tight schedule because right now all the cabinets are currently in the living room and entryway, and they all need to be out there next Wednesday because we're hosting a group from our church every Wednesday night.
For the next week, my focus is on repainting the ceiling and walls in the main part of the room (ie, not the back entry yet, since that area won't affect the cabinets), and then cleaning , preparing, and painting the studio floor. The room is large with high ceilings, so it can be a big job. But I need to paint the ceiling and walls before I do the floor.
And speaking of the studio floor, I've narrowed down the design options to these two…
I'm having a hard time deciding between the two, but I still have a few days before I make the final decision. If I were forced to choose right this minute, I'd probably go for the floor from The Winsome Nest. It's simple and classic, and I think it looks great in the room.
And I also made a decision on the color of the cabinet. I'll go with it…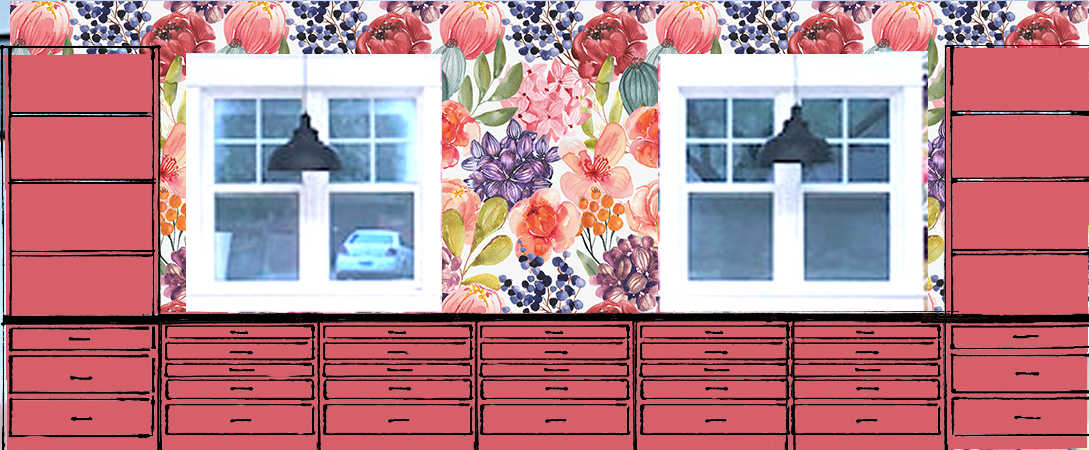 If you follow this decision-making process, it is Option 3 that is mitigated. (You can find other options in this post.) Of course, once I get the actual wallpaper in hand, I might have to make some tweaks to that color. But what I learned through this process is that I like color a little on the brighter side rather than the grayed, toned down side. But I also don't like it because it's bright and saturated. There's a fine line there for me, so finding that sweet spot may take some trial and error.
I made the cabinet color decision while standing in my kitchen where I can see the living room, breakfast room (sitting room) and studio at the same time. So it looks like this, except when I'm standing in the real room, I can clearly see more of these rooms.
But I love the idea of ​​pinkish colors leading from the pink curtains in the living room, to the magenta curtains in the breakfast room, and then to the cabinets in the studio. I think the rooms go well together, and I think that color would look great on the painted floor.
So it's time to put all other projects aside for a while, and finally get busy in the studio. This is the room I know many of you have been waiting for a long time. I'm with you, so it's amazing to finally see progress in this room!