Don't want to haul those soft drink cans to recycle? Instead, make this beautiful upcycled soda can flowers project to hang on your garden wall! A great way to show your creative side while also being able to reuse something that would otherwise have been discarded. The vibrant colors and simple steps make it a great addition to your to-do list this spring or summer!
Flowers in Soda Can
You may find them in gardens or even in home decor stores, and they can be even more expensive. Instead, make your own small metal flowers using soda cans. All you need are empty cans, some paint, and scissors. In a few steps, you have a fun and amazing idea to decorate your garden or just a wall inside your home.
You will be amazed at how easy it is to make these flowers. Make one or make a dozen and use them as gifts or just a fun way to decorate. I love that you can customize the colors to easily fit your home decor or the colors of the flowers in your actual garden. If you have a lot of cans lying around after this, here's a good list of Soda can create ideas!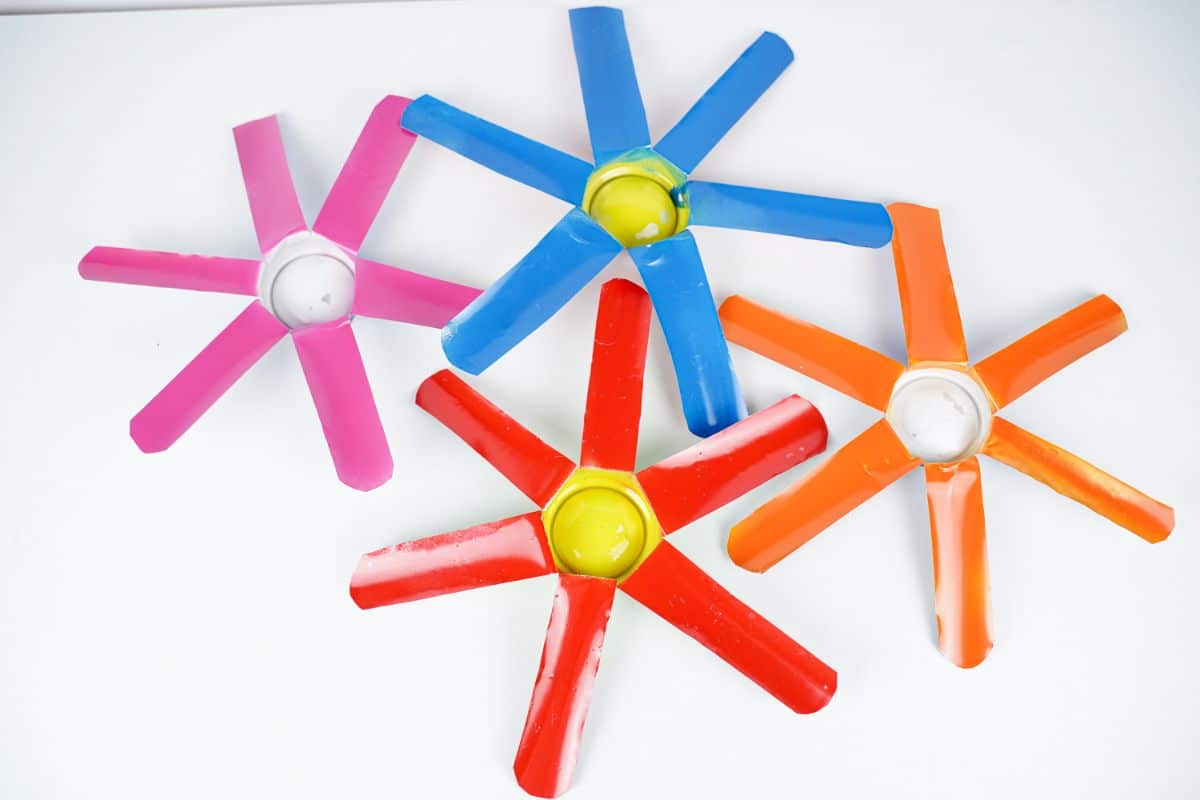 What Can I Do to Get Rid of Sharp Edges on Aluminum Pieces?
If you are worried about the sharp edges of your aluminum cans, you can use a file or sandpaper to smooth them out. You can also use a hot glue gun to seal the seams. We just cut a curved edge with scissors. It's only good if you hang it up and don't touch it often. If you plan to use it in a "bouquet", you can smooth the edges and a little more.
Which Paint is Best for Aluminum Soda Cans?
I like to use spray paint when painting aluminum soda cans because it is easy, inexpensive, and the fastest way to paint. However, if you want to use acrylic paint, it will work and stick to them well. Using acrylic crafting paint allows you to add more detail and control where to place the paint.
If you find that the paint does not stick well, the acrylic or the spray paint, try to ruin the surface of the cans. You can use sandpaper to dig into the surface of the cans so that the paint has something to stick to.
For more detail, you can spray paint and then use a stencil or free designs using acrylic paint. I love this idea of ​​giving flowers a little personality.
How Can I Show It In My Garden?
There are a few different ways you can display your upcycled soda can flowers in your garden. One way is to hang them on shepherd's hooks or tree branches. Another way is to glue it to the stakes and place it on the ground.
You can also make a mobile by attaching it to a hanger. Another idea is to make a wreath by hot gluing it into the shape of a grapevine wreath, but this requires a small can and flowers. Whichever way you choose to display them, they are sure to add a touch of whim to your garden.
Of course, my favorite way to show them is to hang them on a garden fence. It just adds a fun little whim of space and a pop of color to a boring garden area.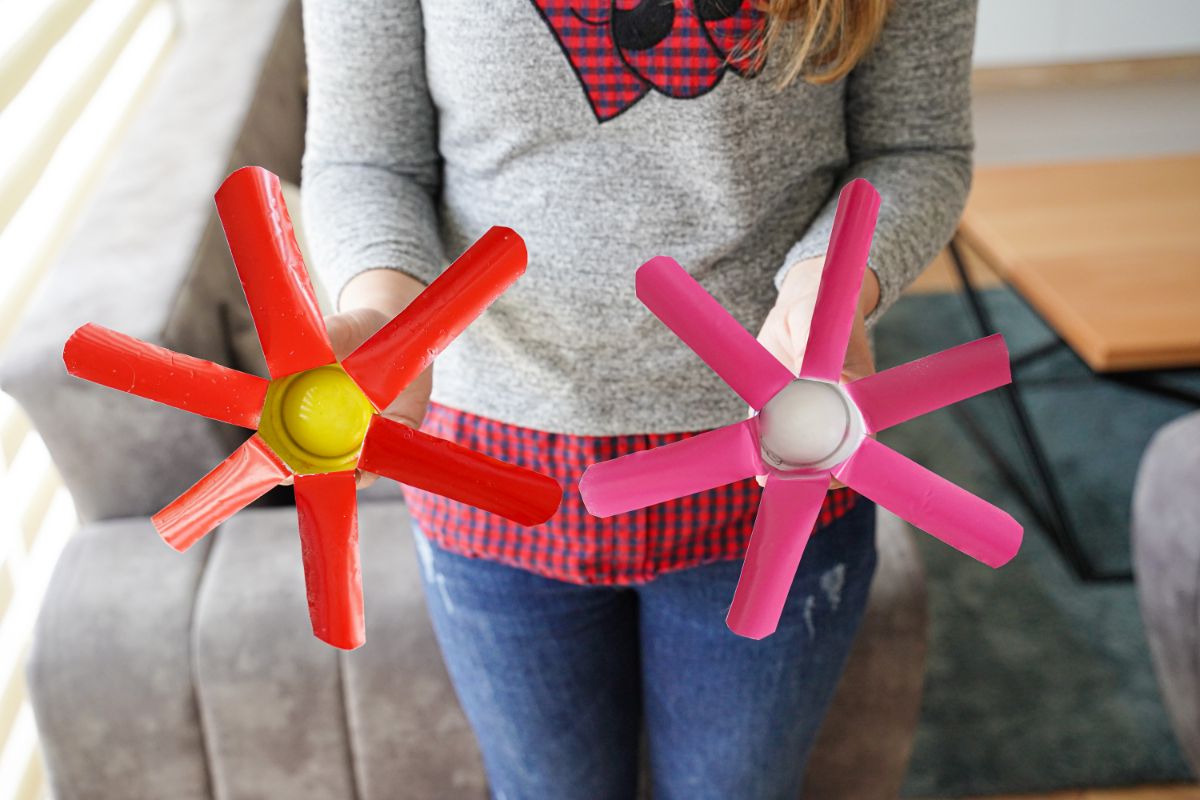 Can I Customize My Flowers to Be Different?
Yes! There are so many ways you can customize your upcycle soda can flowers. The most obvious thing is to paint them in any color you want. It just happens to be the bright colors I already have, but you can easily use different shades of neon, bright, classic, or even pastels.
Other options include some of the following:
Use a small paintbrush to add swirls of contrasting colors and detail with the petals of the flowers.
Change the shape of the petals by cutting the ends into scallops or dots. You can even use a ballpoint pen or pencil to help you curl the ends inward or backward.
Add buttons, beads, or glitter in the middle of the flowers to give them a little extra pizzazz.
Add flower stalks using tube cleaners, flower wire, or similar for small flowers or even painted tree garden stakes for large flowers.
Supplies are needed
How to Make Flower Soda Can
Start by washing the cans with soda and then let dry. When it is dry, you can immediately use a knife or scissors to cut the top (tab end) of the soda can. Discard it, just leave the can. If necessary, you can wash it now.
Now, make the outlines of your flower by making cuts from the top to the bottom edge, every 1 ″ around the top of the can. Cut to the top of the base of the can, leaving it attached, but dividing the sides. Carefully, place these side pieces flat so that the center is bright and creates a flower shape.
Use scissors to shape the ends of each petal into a circle or the desired shape.
Now, spray the center of the flower with a light color, such as white or yellow, and let it dry.
When the middle is dry, cover that area with a piece of paper, then spray the strips with a different color.
Repeat this for all your flowers mixing and matching colors to create your own unique "bouquet".
Hang it on the wall, in your garden, or in the trees with a hook.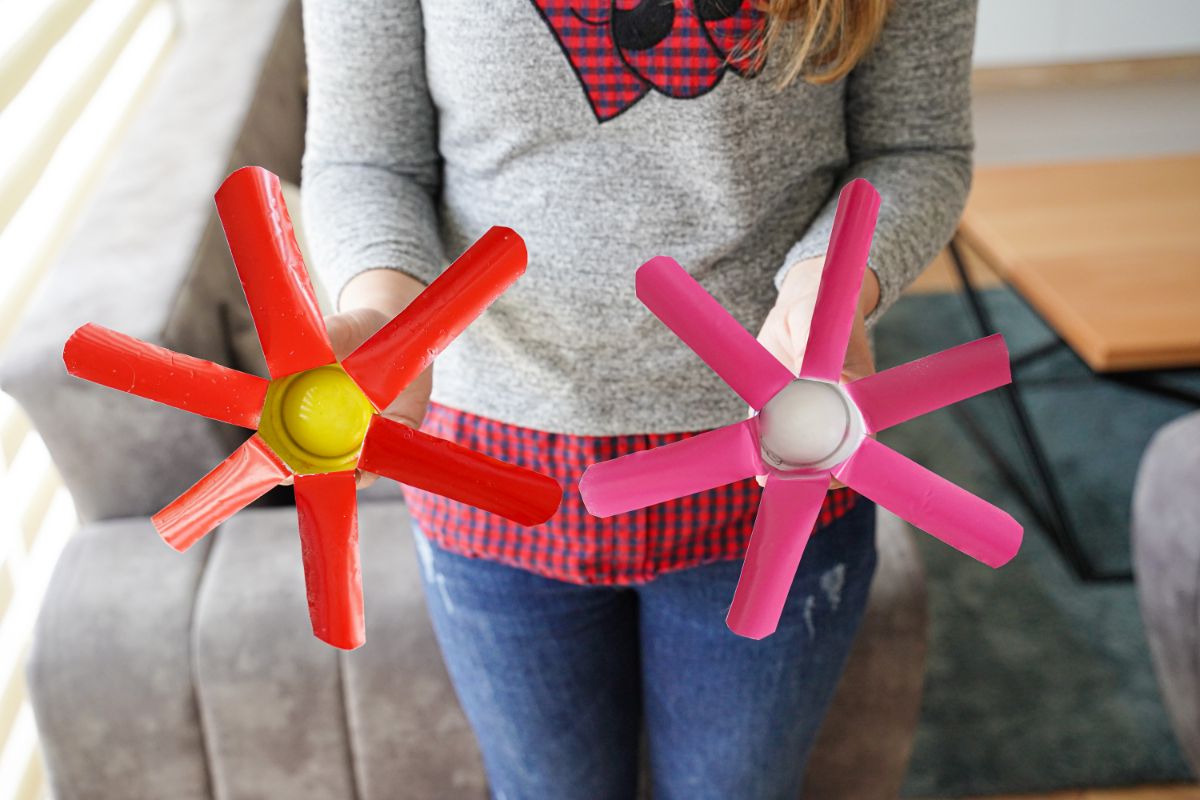 Easier Flower Crafts
Flowers are one of my favorite things in life. They are beautiful, reflect nature, smell, and just make me happy. Making fake flowers has always been a fun project for me. Whether it's a wreath, some flowers made of paper, or even yarn flowers, you'll love the ideas below to add to your home decor! Make sure you bookmark these ideas, print the tutorials, or pin them on Pinterest to get it done right away.
Make these beautiful soda can flowers with just a few supplies! A great way to upcycle empty soft drink cans!
Active Time
15 minutes
More Time
30 minutes
Total Time
45 minutes
Depression
easy
Estimated Cost
$ 1
Notes
Attach to painted garden stake to add to garden or yard if desired.
Recommended Products
As an Amazon Associate and member of other affiliate programs, I get from qualified purchases.
Completed Project Gallery
If you want it to shine even more, just get a glitter spray to coat the outside of the flowers before hanging them.