Please note: This post contains links.
Like every project I've taken on, my aisle has been much longer than I expected. I thought I'd finish it last week, but even though there's a lot of trim installation, wood filling, sanding, caulking, and priming like I did in my two decades of DIYing, I'm always wondering about how long all the things that are needed in every new project.
But in the end I went through the slow phase. All trims are laid, wooded, plastered, polished, primed, and painted. The last big thing I had to do was paint the light gray edges on the wall, and then I was ready to bring in the new console table and decorative touches.
By the way, if you miss the new DIY console table, you can click here to see it. I do this by repurposing the edge grain plywood herringbone coffee grounds I made in 2019.
However, I was excited to see the new console table in the "new" (much smaller) hallway. But before I can count the hallway already finished, I also need to do paint touchups on the doors, install the door hardware on the doors (door knobs on the bathroom doors and pull the door for on pocket doors).
(Note: If you read this post on any website other than Addict 2 Decorating, that means you are reading a site that stole my blog content. I ask that you consider joining me on my real blog by clicking here.)
And finally, I had to do a little cabinet project. Our router / modem sits on the top right cabinet shelf in the hallway now, and the outlet is on the bottom left cabinet. For more than a year now, it's been a very nice and stylish orange extension cord, which winds from the tall cabinet, across the front of the drawers, and into the bottom cabinet where it adds up.
All I had to do was drill a hole (maybe two) in the inside of the cabinet to get the rope through the inside from the top to the bottom of the inside of the cabinet. Apparently that's a very complicated project because I've been putting it out since the fall of 2019. 😀 But it's time to get it done. It could still be done to me in all five minutes.
In other news, I shared a few days ago how We made our breakfast in a chair this time. After changing that, the chandelier in the breakfast room seemed out of place, so I decided to buy new lighting for the interior. I decided this sputnik light.
I love light fixtures that make a statement, and this one fits the bill. But when I put it together (yes, you have to screw each of the metal spikes together), I decided that this light would be more suitable for the living room. Make sure this statement is more than the current one that is there, as it were.
So I figured I'd make a little shift and put that light in the breakfast room, and put the new light in the living room. After all, if one of the quarters needs to have a light statement, it should be the room you see when you walk in the front door.
Now if only I could put the thing together. I only have half of it so far.
And finally, I received the wall mural for the master bathroom! This is what I ordered…
I haven't translated the whole thing yet (I'm afraid I'll ruin it), but from what I can see, it's amazing.
I ordered deluxe paper, and it's a vinyl paper that should hold up well in the bathroom. And just look at all of these beautiful colors!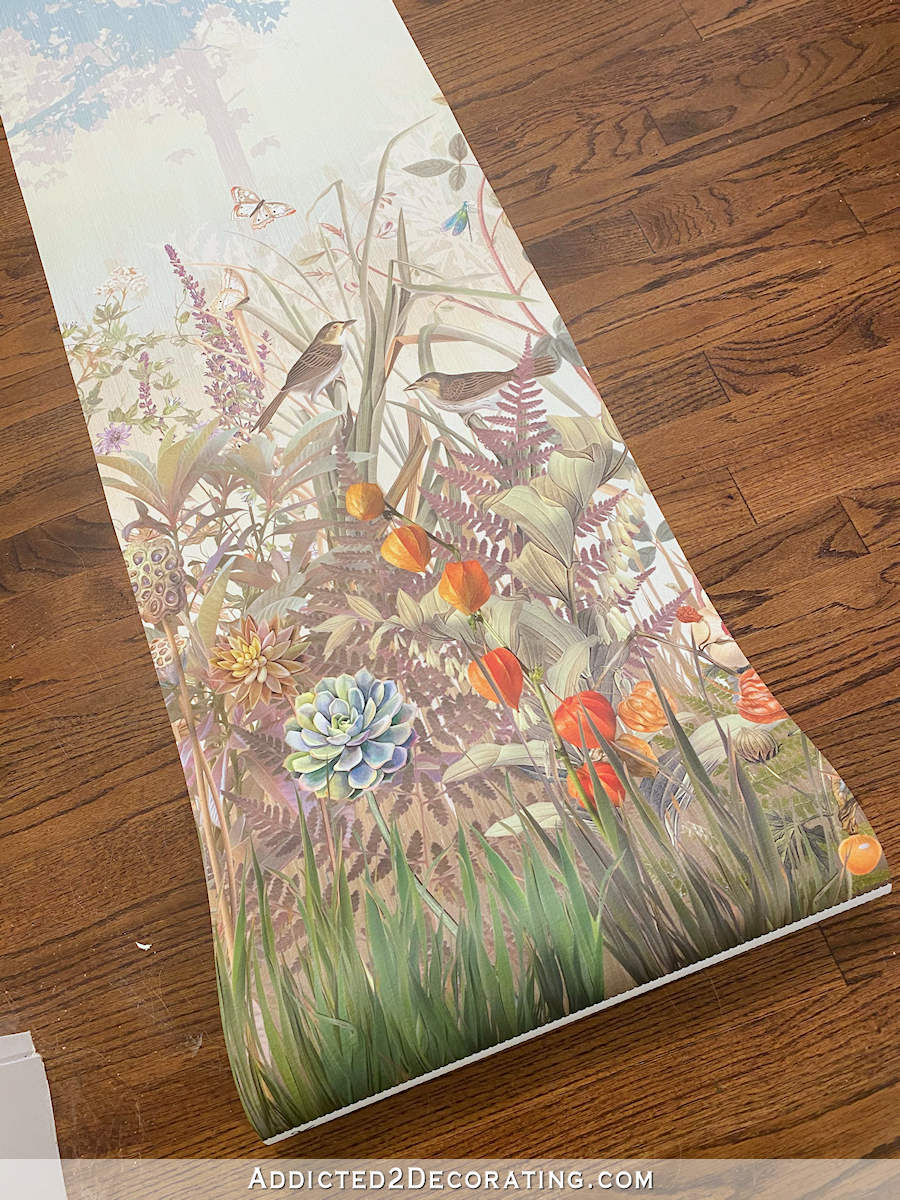 All panels come in a long, continuous roll with lines indicating where to cut.
PhotoWall is located in Sweden, so I expect it to run a week (at least) to get here because they do the size, harvest and print of each mural according to your specifications. But it got here in a few days. I think it took a total of five days from when I ordered it. That's so amazing! And now that I have the actual mural, I can do the rest of my choices for tile, paint colors, and more.
So things move right away! I finally got to a point where I actually felt like my old DIY lover myself. All last year, I felt lacking in motivation. And then it's really hard to get back to paying attention to things this year. DIY is like a muscle (at least for me), and if I don't do it regularly, it's weak. So this year felt really challenging for me. But in the last few weeks, I've started to enjoy working at my house again.
And I am so happy that soon I will be able to show all the finished hallway, the finished music room, and the finished living room !! I avoided showing you the music room and living room because the unfinished hallway is shown in the photos of those two rooms. And after a long time to finish the music room and living room, there was no way I wanted an unfinished hallway with photos of the other two rooms prepared. That's why I can almost show all the newly finished areas in our house!
---
---