It's that time of year again when I list my goals for the new year. I didn't do as good a job with last year's goals (don't worry…I'm not beating myself up over it, and I'm proud of what I did last year), so only time will tell if this year will be even better. good as far as goals go.
Like I said in yesterday's post, I feel like I can just copy and paste last year's goals into this post and be done. 😀 But that's not accurate. I finished a few things last year (you can read my last year's synopsis here), and because of what I did last year, I only have two rooms — the home gym and my studio.
Technically, the middle bathroom attached to the studio is finished, but I have plans to make some changes there, so I made the room green (continued) in the floor plan above.
So that's pretty exciting. I'm only in two rooms. It has been a long road to get here, and I would like nothing more than the end of 2023 to have all these rooms completely finished.
Here is a more detailed look at what I hope to accomplish this year:
The Home Gym
This room is an absolute mess right now. It was used as a storage room and workroom throughout the master bathroom remodel. And now it's time to clean it up and finish it. I was hoping to get this room cleaned up, but the day I planned to start was the day Matt and I started getting sick, and the day Matt went to the hospital for the first time. And now here we are, three weeks later, and the room is still like this.
But it's okay. I'll start now! And I was able to make progress in this room last year, so a lot of the more difficult projects were done. At the beginning of last year, none of the windows or doors were broken. Now they are all cut, but I still need to sand, caulk, prime and paint the trim.
So here's exactly what needs to be done here to finish the room:
Install the remaining hardwood flooring in the closet area
Install the remaining small ceiling trim
Finish installing the baseboards
Finish painting the walls
Install the ceiling fan
Install two recessed lights in the closet area
Sand, caulk, prime, and paint all the trim

Window casings
Door casings
Baseboards
Small trim around the ceiling

Install foam square gym flooring

Hang the curtains (yes, I hang curtains in a home gym…because I am me. 😀 )

Construction of the Swedish staircase

Build a cabinet and shelves in the open closet area
Painting Matt's exercise bike (it's white, and I want it black)
Add mirrors/posters/artwork/whatever else a home gym needs to make it an inspiring space
And when that room was done, that just left me with ONE MORE ROOM!
My Studio
You, it should be the year i finished this space. This has been too long, and for my own mental health, I need to get it over with. I am so ready to have a fully functional studio space with storage and organization and everything in its place.
And how exciting it will be when it's finished, because it's the last room in the house!! (Well, the last room standing now, before we add three more rooms.)
Here's what needs to happen for this room to be finished:
Install, caulk, prime, and paint the rest of the trim

Window casings (all installed, but two still need to be caulked, primed, and painted)
Door casings
Baseboards

Building, priming, and painting cabinets

Cabinets in the "office" area of ​​the room near my desk
The entire wall of cabinets on the front (wallpaper) wall
Cabinets near the door to the sitting room (ie, breakfast room)

Install a light in the storage closet
Build shelves for the storage closet
Make some tweaks in the middle bathroom
Repaint the back hallway walls
I may add things to that list as I go. I mentioned that I can change the wallpaper. (Don't worry! I haven't decided yet. It might stay.) And I might change the wall color in the main studio area, too.
As far as the middle of the bath, I'm not sure how much changes there are. I know the wall design is going, but I'm not sure what to replace it with. I knew I wanted to keep it colorful and fun. So depending on what I'm doing on the walls, the color of the vanity will have to change as well. But that's a maybe, and it's one of those things that will be decided as I progress. I don't have to make decisions now.
So those are the last two interior areas I'm going to focus on this year, and that's my main goal. If nothing else, I want to end this year with those two areas completely finished and functional. I don't want to keep hiding places behind closed doors when guests come over.
But I always have a few more "second level" goals that I keep in mind when I need a change of pace to keep myself interested, motivated, and going. Here's what this year's list looks like…
The Guest Bedroom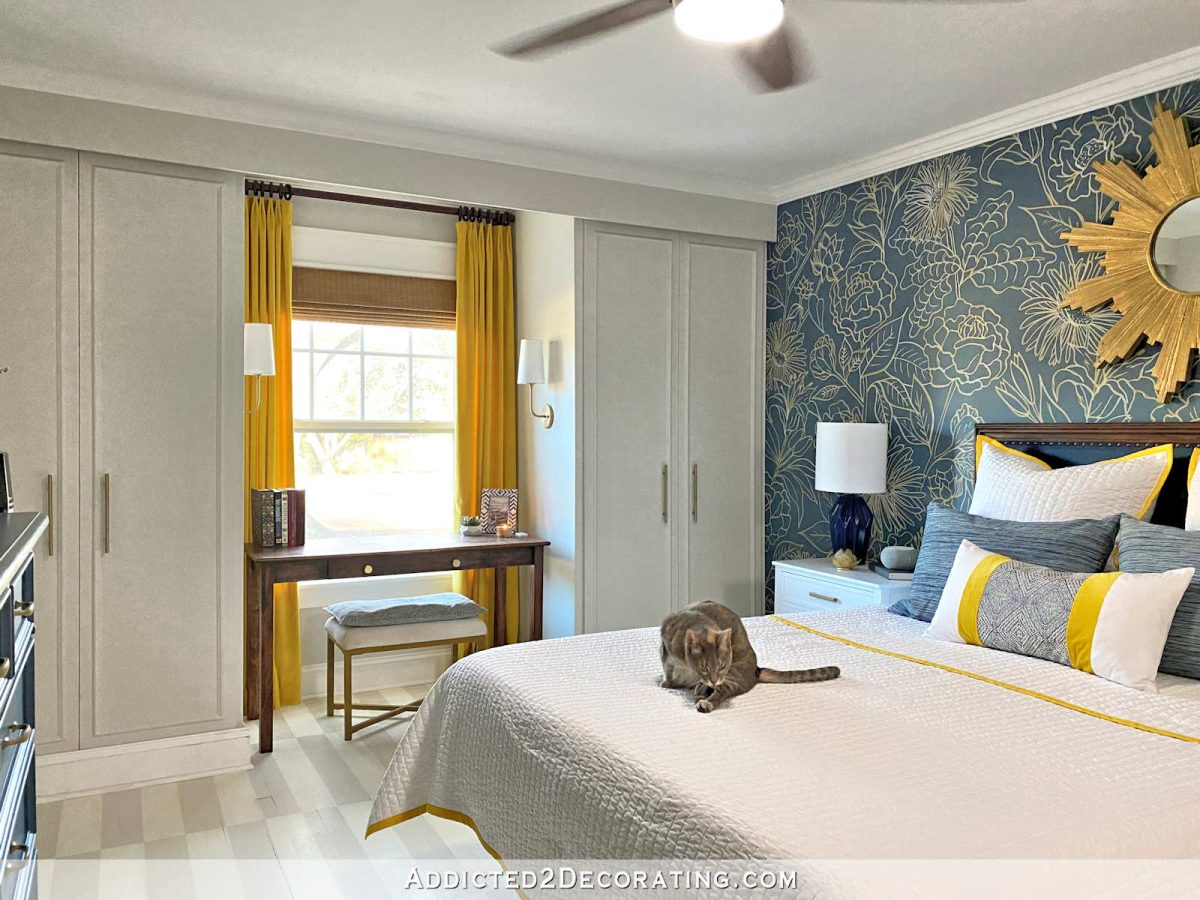 I finished this room a while back, but there are a few tweaks I want to make here if I can find the time to do them.
I mentioned before (probably only on Facebook) that I wasn't sure about one part of the wall. Don't get me wrong. I love that wall and the design I did on it. But what I didn't like was that the other walls in this room were very blah.
That's not just me. So I polled people to see what they thought about me extending the wall design to the other two walls. Most people think this is too much. And I agree that a floor-to-ceiling design on all three walls would be too much. But I'm not satisfied to just leave it.
So what is my solution that I want if I want more color and / or pattern on the walls, but I don't want it to be too heavy? Wainscoting! White wainscoting, to be exact. That's what I did in the music room and the master bathroom. That's what I want to do here…plus one more project…
Add wainscoting to the lower half of the walls
Extend the flower design to the other two walls
Create a new base for the bed to accommodate the adjustable bed
Front Porch and Exterior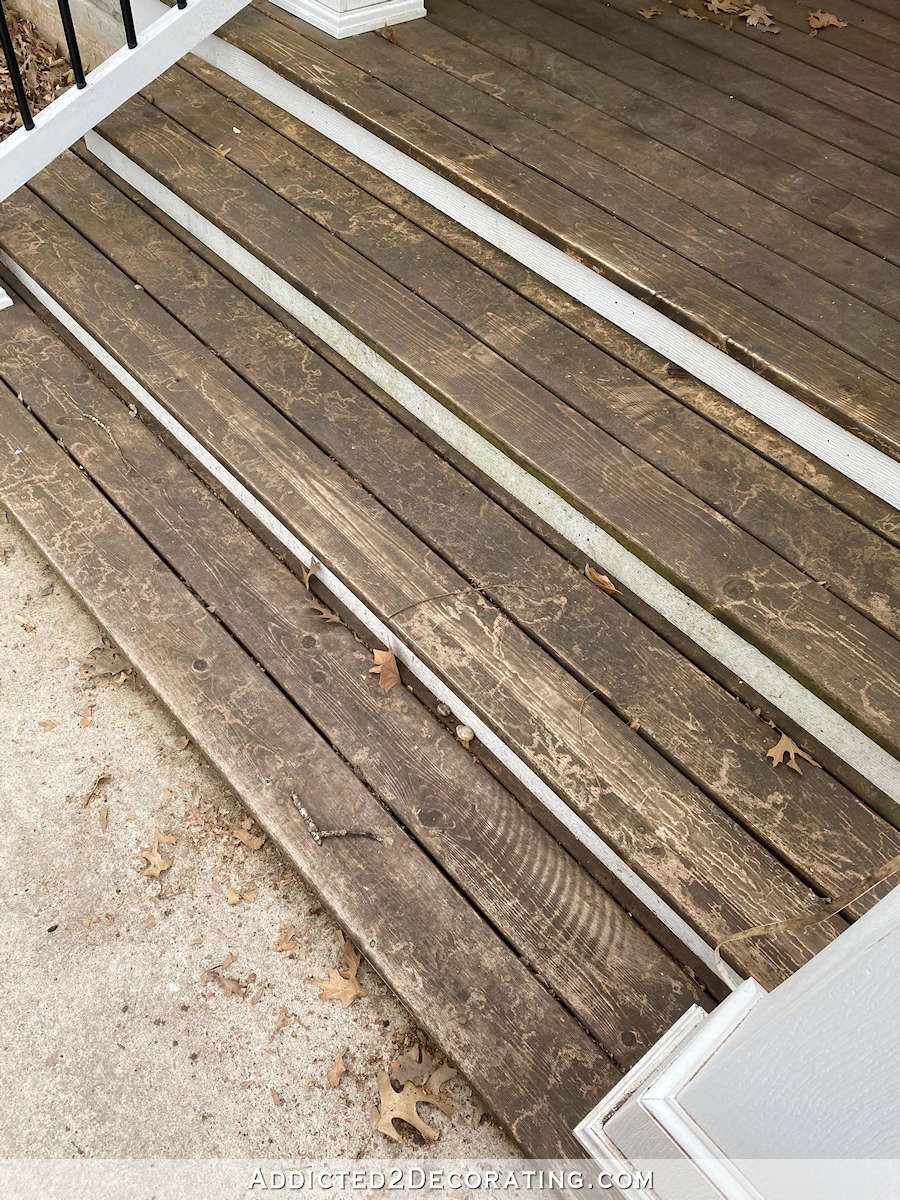 I have maintenance that needs to be done on our front porch, plus I just need to finish the front porch. As far as maintenance goes, I don't think I can delay it for a year. If I do, I risk the weather damaging the wood and having to replace things. I will not let it get to that point.
So here's what I want to do…
Finish the stone façade in front and side of the concrete balcony
Sand and reseal/stain the porch boards
Repaint the front door (same color, but just needs to be refreshed)
Create a sitting area on the front porch
Make flower beds around the balcony and plant beautiful things
Build steps to the side (studio) door
Rehang a shutter that has been dislodged during high winds
Make flower boxes and install
KITCHEN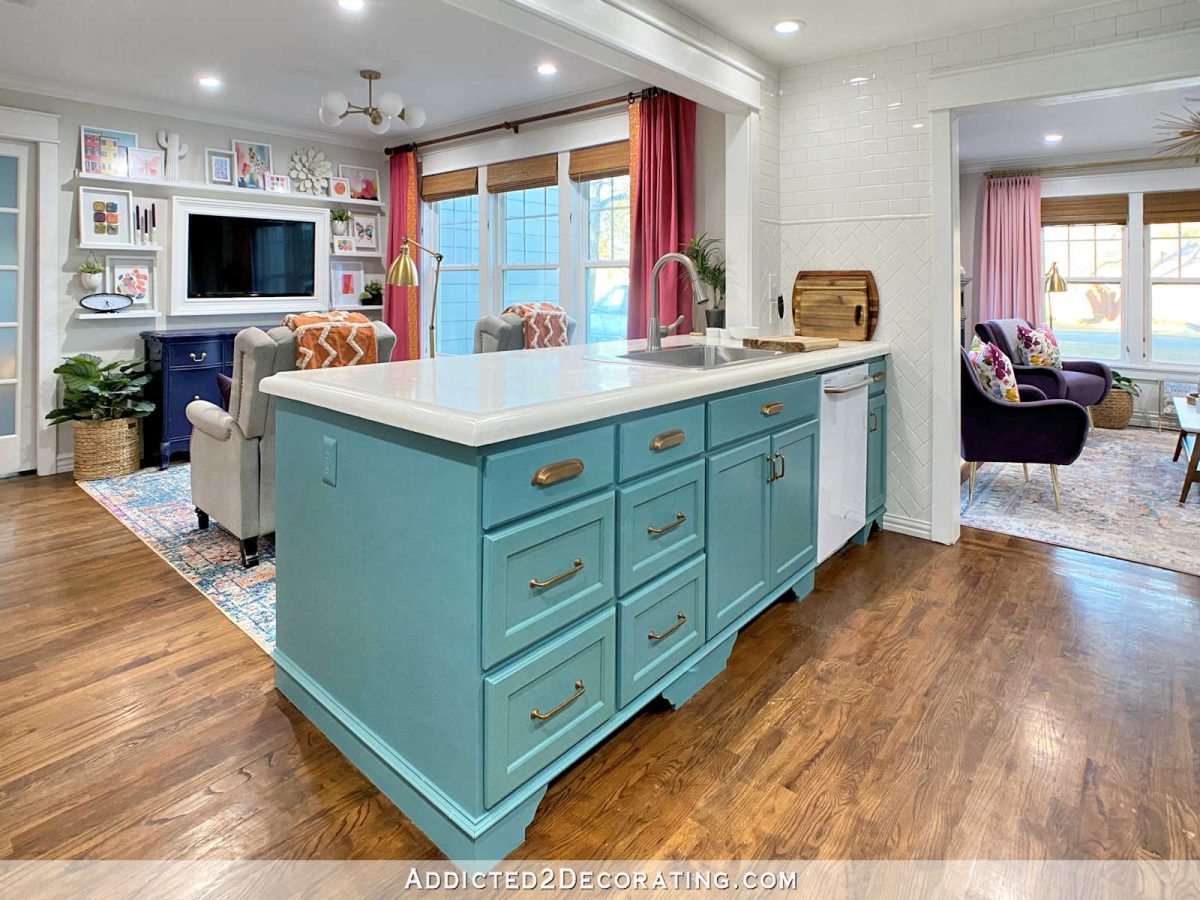 At this point, I don't have a lot of plans for the kitchen this year, but I want to make this the year I finally get the dishwasher out and turn that space into usable storage space. I want to add one of those Rev-a Shelf pop up shelves that most people use for their stand mixer, but mine will be for my blender and InstantPot, and maybe a few other things.
But the kitchen changes could be more extensive when we can start adding on this year. For now, that's huge when. Not nailed yet, but I plan to put the wheels on soon and see if we can make that happen this year.
If we can do that, the back wall of the cabinets will change. But my plan not to create a cased opening between the kitchen and the new family room. I think I got an idea that I love, though. And if I implement that idea, the entire wall behind the kitchen cabinets will change. I'm not ready to share the details yet.
All that to say that right now, my plans for the kitchen are small. But those plans could change depending on what happens with this year's addition. Right now, I want to…
Remove the dishwasher
Convert that area to storage
I think that's it. I'm not delusional enough to think I can do it all by 2023, but I think I can get the home gym and the studio done this year. These other goals are real things that I will treat like a buffet. If I need to distance myself from the home gym or the studio, I'll see if I can pick something from the buffet of "second level" options just to keep myself going. And once I have enough rest from the main goals, I can get right back to it until it's done.
And then with the increase in the air now, it will be very interesting to see how this year shakes out in the end. See you back here in 12 months, and we'll see how I do. 😀
Addicted 2 Decorating is where I share my DIY and decorating journey as I remodel and decorate the 1948 fixer upper that my husband, Matt, and I bought in 2013. Matt has MS and is physically disabled. , so I do most of the work at home by myself. You can learn more about me here.
I hope you'll join me on my DIY and decorating journey! If you want to follow my projects and progress, you can subscribe below and get every new post sent to your email inbox. That way you won't miss a thing!